Print Friendly Version
"I'm having a relationship with my pizza!" ~Julia Roberts playing Elizabeth Gilbert in the movie "Eat Pray Love"

Hello friends! This entry has taken most of the summer for me to write, because Jeff and I had never grilled pizza before this past June. On one of my facebook posts awhile back, I asked the question: "What is your favorite recipe for the grill?" and my friend Bobby replied, "Pizza!" I asked him to please send me basic instructions and tips for grilling pizza which he did. This is, hands down, the best pizza we've ever eaten. We've been trying the wood fired pizza at different, local restaurants that serve it as their main offering, and I just have to say it…grilled pizza is even better.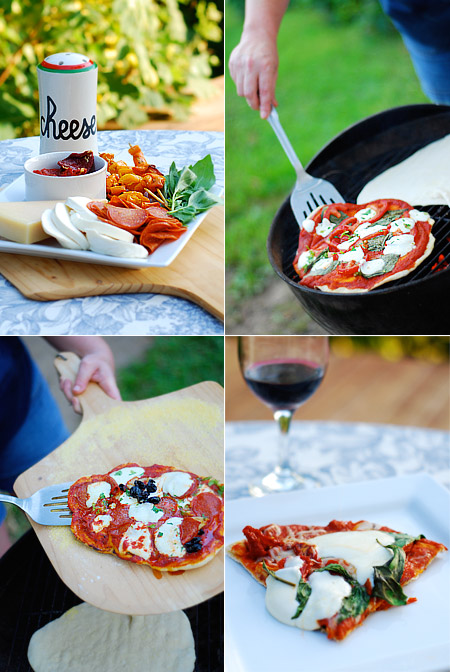 ~Grilled Pizza~
Okay, before we get started I'd like to note that the following instructions are based on grilling pizza on a charcoal grill. We use 100% natural wood charcoal. I imagine that grilling pizza on a gas grill would probably work, but I have never done it. If you try this on a gas grill with good results, please let me know. I'd love to hear your comments and am eager to share your grilling wisdom on my blog.
Here are my friend Bobby's notes:
"Grilled pizza is easier than it sounds, but the key is to have everything in place (it that mise en place thing, but I boycott all things French, so I don't say that).

Just use your favorite pizza crust recipe (I've been using the one from the Joy of Cooking). You can use either a charcoal or gas grill. Build the coals on one side of the grill (or turn on one of the burners on the gas grill), roll out the crust and then put the crust on the grill. It seems like the dough should drop through the grates, but it doesn't. It gets nice and blistery. Use a tongs and turn it a quarter turn after a couple minutes (lift it up and see that it's cooked on the bottom, but don't let it burn.

After the bottom is done, flip it over and put the sauce, toppings, and cheese on. This is where that mise en place helps (darn, I said the French version). Cover the grill, but turn it a quarter turn every couple minutes. If you want the cheese meltier, just move the pizza closer to the cool side of the grill and let the heat inside the grill melt the cheese.

Slide it onto a plate, cookie sheet, pizza peel — whatever. Let it rest for a couple minutes, slice and enjoy. And you will enjoy."
Thanks again Bobby! 🙂
~The Crust~
This recipe makes 1 lb. of dough (enough for four 10 inch pizzas.) I add Italian seasonings and a little garlic powder to my crust because I love how it makes the crust taste like garlic bread. If you just want plain pizza crust, leave out the seasonings.
1 teaspoon sugar
1 packet (1/4 oz.) active dry yeast
2 teaspoons extra virgin olive oil
1 teaspoon salt
2 and 1/4 cups all purpose flour (plus a little more for work surface.)
2 Tablespoons dry Italian seasonings (optional)
1 teaspoon garlic powder (optional)
Pour 1 cup warm water into a medium bowl; add sugar and sprinkle with yeast. Let stand until foamy, about 5 minutes. Whisk the oil and salt into yeast mixture. Add flour (and additional seasonings if you're using them.) Stir with a wooden spoon until liquid is incorporated (dough will appear dry.) Turn out onto a floured work surface. Knead until dough forms an elastic ball, about 2 minutes. Transfer dough to an oiled, medium glass bowl. Brush top of dough lightly with oil. Cover with plastic wrap and set in a warm place until dough has doubled in size (45 minutes.) Punch down dough several times. Cover and let rise an additional 30 minutes. Turn dough out onto a lightly floured work surface. Cut into 4 equal pieces. Let rest 15 minutes before using. If you want to store some of your pizza dough to use later, just place the individual dough balls in freezer ziploc bags and they will be usable for up to a month. To use frozen dough, simply remove from freezer and set on counter for about an hour, until thawed.
~Melissa's Pizza Sauce~
You're going to want to make this in advance so it's ready to go when you want to grill your pizzas. I usually make a batch while I'm waiting for the pizza dough to rise. This recipe makes a LOT but it freezes beautifully.
In a large stock pot:
Brown 1/2 cup finely chopped onion in 1/4 cup extra virgin olive oil. Once onion is browned and soft, add two cloves minced garlic and cook until golden brown.
Add:
2 (28 oz. cans) tomato puree (not sauce.)
1/4 cup red wine
2 Tablespoons Italian seasoning (dry)
1 Tablespoon onion powder
1 Tablespoon sugar
2 teaspoons freshly ground pepper
1 Tablespoon salt
1 Tablespoon fennel seed
2 teaspoons garlic powder
Cook uncovered, over low heat until thick and reduced somewhat (about 30 minutes.) Stir occasionally, and watch closely so the sauce doesn't burn.
~White Pizza Sauce~
This is a nice alternative to the traditional red pizza sauce. I made this for our grilled veggie pizza, and it turned out great.
Mix:
3 Tablespoons extra virgin olive oil
2 cloves garlic, minced
1/4 cup grated Romano or Parmesan cheese
1/4 cup white wine
~How to Grill Pizza~
Create two sections on the grill. A very hot back section, and a cooler 'preparation' section in the front. You do this by putting more charcoal in the back, and less in the front. Allow charcoal to burn, then cool a little before cooking to prevent burning the crust.
Have all of your ingredients ready to go. Although I wouldn't say grilling pizza is difficult, it is a bit of an exercise in timing. Having all of your ingredients chopped, grated and ready to place on the dough at exactly the right moment is key (as Bobby stated in his grilling tips above.)
Roll prepared pizza crust dough out onto a lightly floured surface until desired thickness (we like ours really thin, so we use a rolling pin. ) If you like a thicker, chewier crust, try flattening the dough to desired thickness by using your hands. This takes a little practice 😉
Carefully place rolled dough onto a pizza peel that has been coated with a little cornmeal (this will help you slide the crust onto the grill without your dough sticking to the surface.) Place dough directly on the hot section of the grill. Watch the dough closely as it cooks (about 3 minutes.) When it browned on the bottom, flip it to the cooler section of the grill with a tongs or spatula. Immediately spread sauce on the pizza, along with desired toppings. (I'll give you a few tips on toppings a little later.) Once you have the toppings on the pizza, return the pizza to the hot section of the grill and cover the grill (this helps the toppings cook, and the cheese to melt.) About 3-5 minutes. Repeat with however many pizzas you'd like to make.
~Toppings~
My advice would be to keep your toppings light when making grilled pizza. The crust is the star of the show. You don't want to mask it's smoky, delicious flavor with too much sauce and cheese. Here are some topping combinations we enjoy:
Margherita : red sauce, fresh, thinly sliced Roma tomatoes, fresh basil leaves, and fresh Mozzarella cheese.
Puttanesca: red sauce, oven roasted garlic cloves, kalamata olives, anchovies that have been cooked in extra virgin olive oil, sundried tomatoes, fresh Mozzarella and fresh Parmesan
Harvest: olive oil, caramelized onions, garlic, thinly sliced apple or pear,  candied pecans, fresh gruyere, crumbled gorgonzola
Mediterranean: alfredo sauce, sundried tomatoes, cooked chicken chunks, artichoke hearts, fresh basil, kalamata olives, fresh Mozzarella
Classic: red sauce, pepperoni, mushroom, green pepper, fresh onion, fresh Mozarella
Hawaiian: red sauce, pineapple chunks, canadian bacon or regular bacon, purple onion, fresh Mozzarella
Grilled/Oven Roasted Vegetable: red sauce, fresh Mozzarella, and a combination of grilled/oven roasted peppers, zucchini, baby bella mushrooms, fennel bulb, tomato, onion and garlic.
~Wine Pairings~
Who doesn't love a good bottle of wine with their pizza? Here's a general list of pizzas, and wines that pair well with them…
Roasted Veggie Pizza~Rosato or dry riesling
Mushroom~Pinot Noir or Shiraz
Margherita~ Italian Barbera or other medium bodied red
Prosciutto, Bacon, or Pancetta~ Chianti
Pepperoni~Primitivo or Cabernet Sauvignon
Apples/Gruyere~Late Harvest Riesling
Anchovies~Sauv Blanc is always a good pairing with fish
Fruit/Dessert Pizza~ Moscato, Champagne, Sweet Riesling, Port
Enjoy!
~Melissa
You may enjoy these related posts: