Print Friendly Version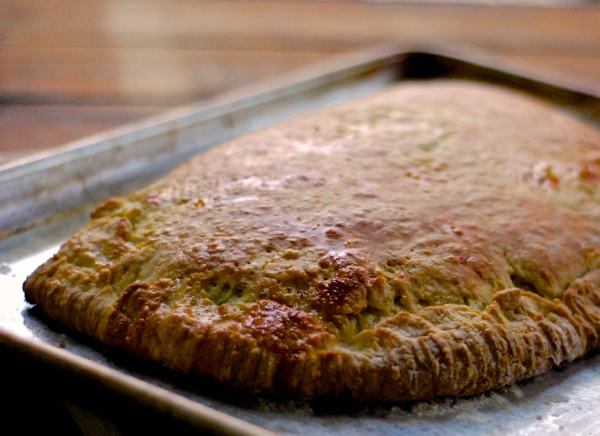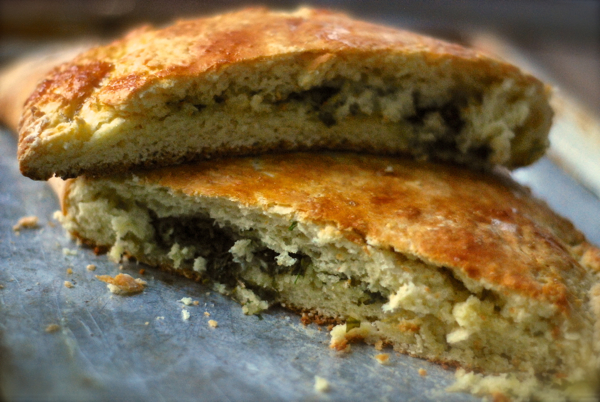 Mezzaluna means "half moon" in Italian. This beautiful, rustic bread has a buttery garlic herb filling tucked inside that is fragrant and glorious and the perfect accompaniment to soups, salads, and of course anything Italian! We had ours with spaghetti and meatballs and Jupiter's Orange Salad. The name comes from the shape of the loaf. Once the filling ingredients are evenly spread over the sweet, eggy dough, you fold the bread over on itself and crimp the edges which creates a half circle or "half moon."
You can certainly add a dozen little slices of pepperoni or 1/4 cup thoroughly cooked sausage to the filling ingredients if you like…I like to do this when I'm serving the bread as an appetizer. I leave out the meat if it's going to be served with a meat course.
for the egg dough:
1/4 cup sugar or honey + 2 Tablespoons additional sugar or honey (divided)
1 cup whole milk, scalded and cooled to lukewarm
2 packets active dry yeast
3 cups all-purpose flour
1 teaspoon salt
8 Tablespoons unsalted butter, chilled and cut into little pieces
3 large egg yolks
In a small bowl, mix the 2 teaspoons sugar/honey with the lukewarm milk. Sprinkle yeast over and allow to sit for about 10 minutes or until foamy.  Add remaining 1/4 cup sugar/honey, flour, salt and butter to the bowl of a food processor and pulse for 10 seconds or until uniform. Add yeast mixture and egg yolks to the food processor. Process until completely mixed and a ball of dough forms. Butter the dough ball and place in a large Ziploc bag. close tightly and put it in the refrigerator to chill and rest for 4 to 8 hours.
~ preheat oven to 350 degrees F. ~
for the buttery garlic herb filling:
5 Tablespoons butter, softened
2 Tablespoons extra virgin olive oil
1 Tablespoon finely chopped, fresh rosemary
1 Tablespoon finely chopped fresh basil
1 Tablespoon finely chopped fresh oregano
1 Tablespoon finely chopped fresh parsley
1 teaspoon finely chopped fresh sage
1 teaspoon fresh thyme leaves
6 large cloves garlic, minced
1 teaspoon freshly ground or cracked black pepper
Roll the dough out into a big circle. Spread butter over dough, leaving a 1 inch border around the circle. Drizzle the olive oil over the butter and then evenly scatter the herbs, garlic  and pepper over the oil. Carefully fold the dough in half. Fold the edges of the half moon in toward the middle, and crimp using your fingers or a fork. Make sure the edges are sealed well.
Oil a large baking sheet/jellyroll pan with a little olive oil. Carefully place the bread on the pan. Cover with plastic wrap and allow to rise for an hour (or more) until the dough has puffed to twice the original size.
Uncover. Brush the top of the bread with a beaten egg white (if desired.) Bake until bread is golden brown (about 40-45 minutes.)
Cut into slices and serve with marinara for dipping (if desired.)
Enjoy!
~Melissa
You may enjoy these related posts: