Print Friendly Version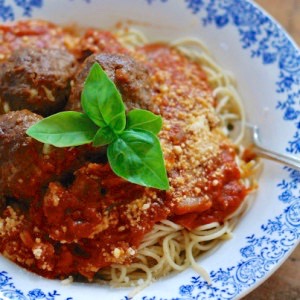 This is my favorite recipe for spaghetti sauce. A few people have asked for the recipe and I'm happy to share. If you've eaten spaghetti at our home when Jeff was cooking, you've had a completely different dish. I like his spaghetti sauce recipe too, but it's not the same as mine. Simmering the sauce in the slow cooker makes this a very easy sauce to make, and allowing the sauce to set in the refrigerator overnight gives the flavors a chance to "marry" so you end up with the most flavorful sauce possible.
1 and 1/4 lb. pork spareribs
1 and 1/4 lb sweet Italian sausage
1 (28 oz can) tomato puree
1 (28 0z can) fire roasted, diced tomatoes
1 (28 oz can) crushed tomatoes
3 cloves fresh garlic, minced
1 whole onion chopped fine
1 small can tomato paste
1/4 cup Fresh marjoram, basil, and oregano, chopped fine (or a couple teaspoons of each herb if using dry)
2 Tablespoons fennel seeds
1 small tomato paste can full of dry red wine
salt and pepper to taste
Brown the meat and onion. Pour off excess grease.  Place all ingredients in a stock pot and bring to boil. Transfer to a large slow cooker and simmer for 3 hours, stirring occasionally. Cool. Place in refrigerator to set over night. Serve the next day over spaghetti with a salad and this amazing garlic bread. world's greatest garlic bread 2 long loaves crusty Italian bread 1/4 cup onion, minced fine 8 large cloves garlic, minced 1/4 cup black olives chopped fine 4 cups shredded mozzarella cheese 1/2 cup grated Parmesan 1 to 2 cups real mayonnaise (no substitutions) Split both loaves of bread lengthwise and place on a large cookie sheet, crust sides down. Combine all of the topping ingredients and spread evenly over the bread. Place in a 400 oven until the cheese begins to melt and turn a golden brown and topping is warmed through. Serve immediately.
Enjoy!
~Melissa
You may enjoy these related posts: