Print Friendly Version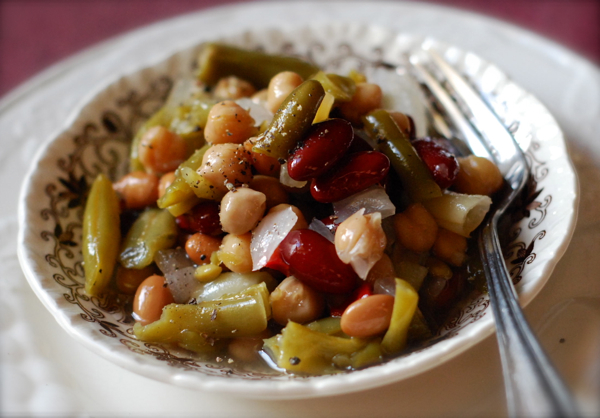 This classic salad is good with everything! I love it paired with grilled steak and baked potatoes or  slow roasted chicken and potato salad. It reminds me of church basement pot lucks and summer picnics.
1 (14.5 oz.) can green beans (not French cut)
1 (14.5 oz.) can wax beans
1 (14.5 oz.) can chickpeas (garbanzo beans)
1 (14.5 oz.) can kidney beans
1 (14.5 oz.) can pinto beans
1/2 cup chopped red bell pepper
1/2 cup chopped yellow or white onion
1/2 cup apple cider vinegar or white vinegar
1/2 cup light olive oil
3/4 cup white sugar
1/2 teaspoon sea salt
1/2 teaspoon freshly ground black pepper
Drain and rinse all beans very well. Transfer them to a large mixing bowl. In a small bowl, combine the vinegar, oil, sugar, salt and pepper until sugar dissolves completely. Mix well. Add this mixture to the big bowl of beans along with the chopped bell pepper and onion. Mix well. Refrigerate for 8 hours (or overnight) prior to serving.
Enjoy!
~Melissa
You may enjoy these related posts: