Print Friendly Version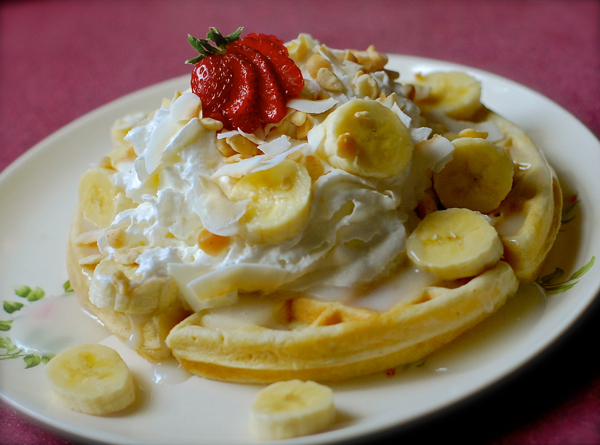 Happy Valentine's week, Lovelies! We're kicking off our annual "Week of Valentine Treats" with one of our favorite romantic breakfasts. Jeff and I enjoyed waffles just like these while vising Maui, Hawaii. Every morning The Terrace Restaurant, at The Ritz Carlton Kapalua, served this amazing breakfast spread…. gorgeous, buttery caramel rolls, plump, fresh sausage, smoked salmon, sushi, eggs Benedict with crab, roasted potatoes, piles of fresh fruit and any freshly squeezed fruit juice you could imagine (my favorite was the passion fruit juice mixed with a splash of pineapple), 100% Kona coffee, and these rich, decadent macadamia nut waffles with coconut syrup. Pure ecstasy, and the perfect breakfast to surprise your Valentine!
for the waffles:
(makes approximately 5 large, Belgian-style waffles)
2 cups unbleached, all purpose flour
1 Tablespoon baking powder
1/2 teaspoon sea salt
2 large eggs, lightly beaten
2 cups sweetened or unsweetened vanilla almond milk (or dairy milk)
1/4 cup virgin, cold pressed coconut oil, melted
1 teaspoon pure coconut extract
1/2 cup chopped macadamia nuts
Combine all waffle ingredients in a large mixing bowl and stir with a wire whisk until evenly combined (there will be some lumps.) Allow waffle mixture to sit while you heat up the waffle iron and make the coconut syrup.
Once waffle iron is ready, cook waffles according to manufacturer's directions for your particular waffle iron.
for the coconut syrup:
1 (13.5 oz.) can coconut milk (not cream coconut)
1 cup sugar
1 and 1/2 Tablespoons cornstarch or tapioca starch
1 teaspoon pure coconut extract
1/4 teaspoon pure vanilla extract
Mix coconut milk and sugar in a saucepan. Stir over medium low heat until sugar dissolves. Turn heat to low. Whisk in cornstarch and stir constantly until syrup thickens. Remove syrup from heat. Stir in the flavor extracts. Cool syrup a bit before topping waffles. Store in an air-tight container in the fridge for up to 10 days.
to serve waffles:
Plate waffles on pretty plates and top with the following ingredients in this order:
generous drizzle of coconut syrup
generous dollop of real, sweetened whipped cream
a whole, ripe banana (sliced)
other tropical fruits such as pineapple, mango, papaya (optional)
2 Tablespoons chopped macadamia nuts
a sprinkle of toasted coconut
a strawberry on top (for garnish)
Enjoy!
~Melissa
You may enjoy these related posts: