Print Friendly Version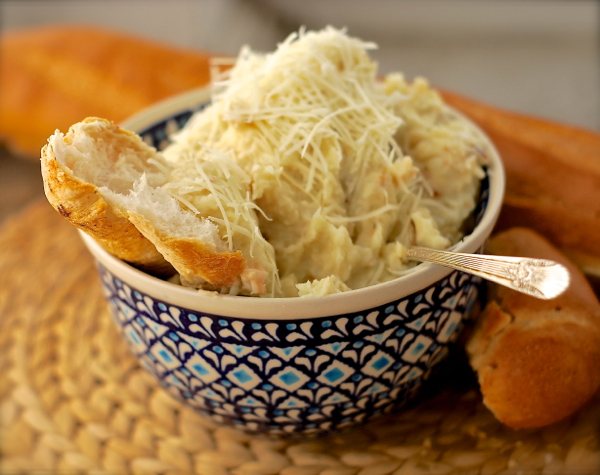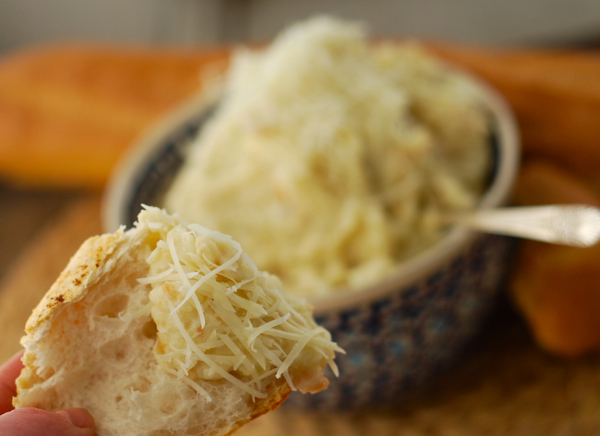 Sometimes romance comes in the form of comfort food, wouldn't you agree? Warm, cheesy, potatoey, comfort food with just a hint of seafood and black truffle oil essence. This gets really decadent when you enjoy it on a slice of freshly baked baguette. When accompanied by a glass of  good white wine (I adore Sauvignon Blanc with seafood,) it's pure heaven!
So, I decided to make up some fancy comfort food for our "Week of Valentine's Treats" lineup this year. I love shellfish and clams work particularly well in this, but swap out the clams for cooked lobster or crab if you wish… or the traditional brandade favorite, salt cod.
3 medium russet potatoes, peeled and cut into quarters
3 medium red potatoes, peeled and cut into quarters
1 large onion, chopped
6 large cloves garlic, minced
1 Tablespoon real butter
1/4 cup extra virgin olive oil
1/4 cup whole milk
2 cans chopped clams, drained (approximately 1/3 to 1/2 cup)
salt and pepper to taste
8 oz. freshly grated Parmesan cheese
black truffle oil for drizzling over top
fresh, warm baguette
Place peeled, quartered potatoes in a big pot of water and cook until very tender. Transfer to the bowl of a counter top mixer fitted with the paddle attachment.
Heat the butter in a heavy skillet. Once hot, reduce heat to medium and add the onions. Saute until tender and slightly golden. Add 5 of the 6 garlic cloves to the skillet and saute an additional minute, until garlic is fragrant. Transfer onion and cooked garlic to the bowl of a food processor. Add the olive oil and pulse until smooth. Add this mixture along with the raw, minced garlic and milk, to the potatoes in the mixer bowl. Mix until smooth. Fold in the drained clams using a wooden spoon. Stir until clams are evenly distributed. Add 2/3 of the grated Parmesan cheese. Mix well. transfer to a serving bowl. Drizzle some truffle oil over the brandade and top with the rest of the Parmesan cheese. Break off pieces of fresh baguette and spoon some of the brandade on each piece. Salt and pepper to taste.
Enjoy!
~Melissa
You may enjoy these related posts: