Print Friendly Version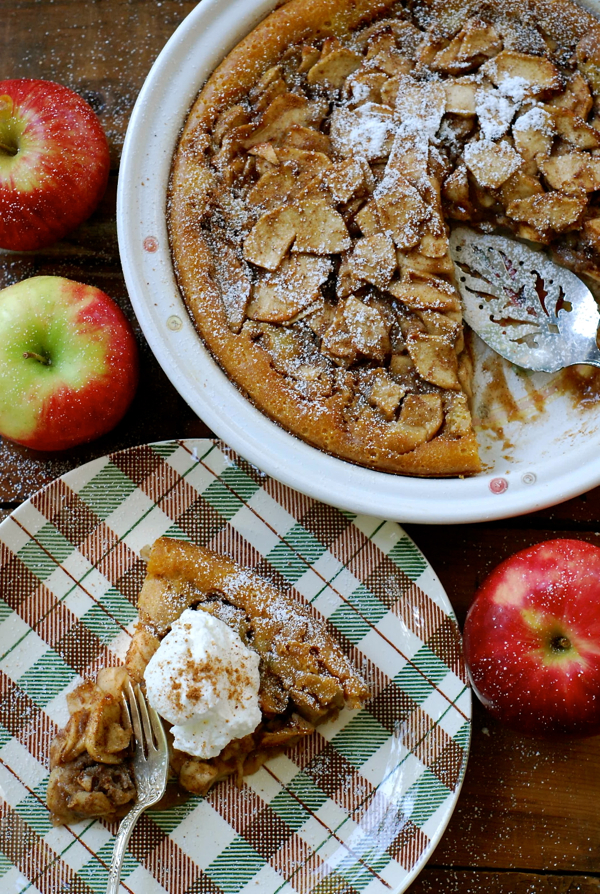 This is a recipe that my grandma gave me years ago when I moved away from home. I remember making it every year during apple season, after our annual jaunt to the local apple orchard. First, in the little kitchen in my college dorm and later in the galley kitchen of my first "real" apartment. It's a wonderful, easy apple recipe for beginning chefs and novices alike. I love it for it's uniqueness and for how quickly you can whip up an awesome apple dessert! Try this when apples are in season and use fresh, orchard apples if you have access to them. This time I used a sweet-tart varitey called "Sweet 16."
This pie is called magic "crazy" crust because it makes it's own crust as it bakes!
~ preheat oven to 400 degrees F. ~
for the apple filling:
3 cups semi-tart apple slices
1 teaspoon cinnamon
1/4 teaspoon allspice
1/8 teaspoon ground cloves
1 teaspoon bourbon vanilla extract
1/2 cup sugar
2 teaspoons molasses
2 Tablespoons all purpose flour
Peel, core and slice fresh apples. Combine all filling ingredients in a large mixing bowl until all apple slices are evenly coated. Set aside.
for the magic "crazy" crust:
1 cup all purpose flour
1 teaspoon baking powder
1/2 teaspoon sea salt
2 Tablespoons sugar
1/2 cup butter, melted
1 large egg
3/4 cup water
Whisk flour, baking powder, salt and sugar together. Add melted butter and mix until combined. In a small bowl, whisk the egg and water together. Whisk egg mixture into flour mixture just until well combined and smooth. The crust mixture will resemble pancake batter.
Butter a 10 inch, deep dish, glass pie plate. Pour batter into prepared pie plate. Pour apple filling into the center of the batter. Bake for 40 to 45 minutes or until deep, golden brown. Cool completely before slicing. Serve with homemade whipped cream or vanilla ice cream.
Enjoy!
~Melissa
You may enjoy these related posts: