Print Friendly Version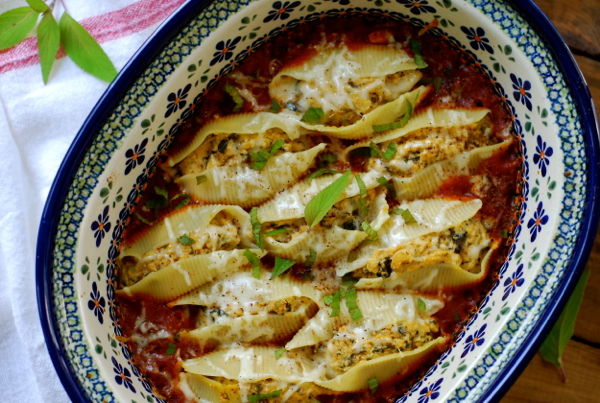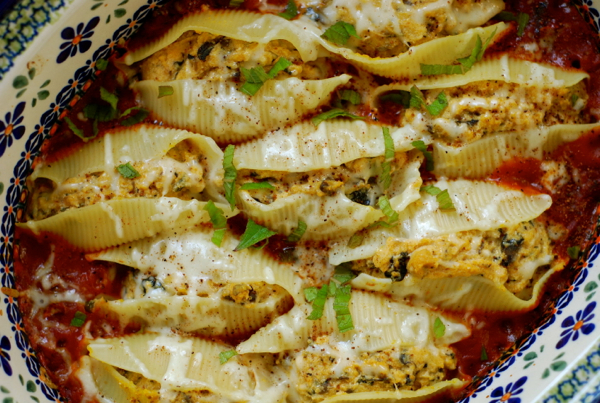 Mmmmmmm…. there's nothing quite like combining pumpkin and pasta to create a cozy comfort food dish for autumn. The cream sherry brings out the lovely flavors of the pumpkin in this recipe,  as does the light sprinkling of freshly ground nutmeg. Feel free to use Alfredo sauce in place of the red sauce if you prefer. It's amazing either way.
~ preheat oven to 350 degrees F. ~
serves 6 to 8 hungry people
12 oz. jumbo pasta shells
2 Tablespoons butter
2 Tablespoons extra virgin olive oil
10 oz. chopped, fresh baby bella mushrooms, divided
1 small onion, chopped fine
1/3 cup fresh basil, chopped + more for garnish
3 large garlic cloves, minced
3/4 cup cream sherry, divided
15 oz. pure pumpkin puree
1 large egg, lightly beaten
2 cups whole milk ricotta cheese
1 teaspoon freshly grated nutmeg, divided
1 and 1/2 cups grated Parmesan cheese (or Romano)
2 Tablespoons fresh sage, finely chopped + more for garnish
1 teaspoon sea salt
1 teaspoon freshly ground black pepper
1 (25 oz. jar) spaghetti sauce OR alfredo sauce
2 cups grated Mozzarella cheese
Cook pasta shells according to package directions.
Heat butter and olive oil in a large skillet over medium heat. Add half of the chopped mushrooms, onion and fresh basil. Cook until tender and the mushrooms have reabsorbed their juices. Add 1/2 cup of the cream sherry and cook until mushroom mixture is reduced and sticky. Add the minced garlic and cook an additional minute. Remove from heat and set aside to cool a bit.
In a large mixing bowl, combine: the cooled mushroom mixture, pumpkin puree, egg, ricotta, 1/2 teaspoon of the nutmeg, Parmesan, sage, salt and pepper. Mix well and set aside.
Mix the jarred spaghetti sauce with the remaining 1/4 cup of sherry and the remaining half of the chopped mushrooms. Divide the jarred red sauce mixture (or Alfredo sauce mixture) evenly between 2 large, glass casserole pans or 9 x 13 glass cake pans.
Stuff each cooked pasta shell with some of the mushroom/pumpkin mixture and place stuffed shells side by side in prepared pans.
Cover pans with aluminum foil and bake in preheated 350 degree oven for 45 minutes. Uncover, sprinkle evenly with the shredded Mozzarella, and bake an additional 10 to 15 minutes or until cheese is melted and everything is hot and bubbly.
Garnish with remaining 1/2 teaspoon of freshly grated nutmeg and extra chopped, fresh herbs.
Enjoy!
~Melissa
You may enjoy these related posts: