Print Friendly Version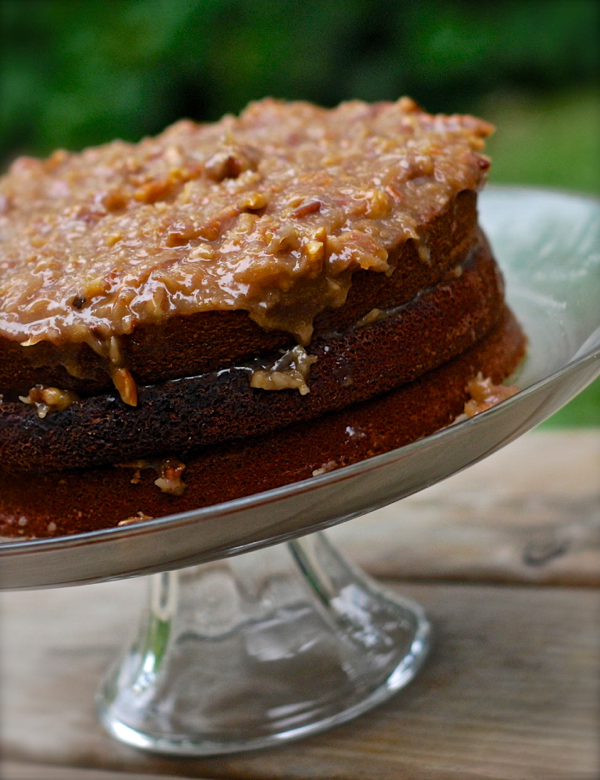 Did you know that German Chocolate Cake isn't from Germany? I found this out while perusing some recipes online and in a few of my cookbooks. This cake was invented by a man named "German." He's the same guy that invented German sweet cooking chocolate. Just a little cooking trivia before we begin.
My younger brother, Terry, requested this classic chocolate cake for his birthday dessert. We had spaghetti, meatballs, tossed salad, pesto bread, and the grand finale was this cake…
This was a fun but somewhat difficult cake to put together. Okay, not necessarily "difficult" but time consuming. Don't make this if you're in a hurry. The end result was absolutely fabulous and totally worth the time and work invested. Moist, chocolaty, caramely, coconutty with that famous pecan crunch. Get your forks ready, you're in for quite a treat!
~ preheat oven to 350 degrees F. ~
Butter and flour 3 round, 9 inch, cake pans.
Sift together and then set aside:
2 and 1/4 cups cake flour (I use Swan's Down)
1 teaspoon baking soda
1/2 teaspoon sea salt
In a saucepan…Combine and stir until melted and smooth and set aside:
4 oz. German sweet baking chocolate (I use Baker's)
1/2 cup boiling water
In a small bowl, combine and set aside:
1 cup buttermilk
2 teaspoons bourbon vanilla extract
In the mixing bowl of your Kitchen Aid, combine:
2 sticks (1/2 lb.) unsalted butter (no substitutes)
1 and 3/4 cups brown sugar
4 large egg yolks
Mix on high speed for 4 to 6 minutes, or until lightened in color and fluffy in texture. Add the melted chocolate mixture and beat just until incorporated. Add flour mixture in 3 parts, alternating with the buttermilk mixture in 2 parts, beating on low speed and scraping the bottom and sides of the bowl with a rubber spatula, as necessary so everything gets mixed together evenly.
In another bowl, beat until soft peaks form:
4 large egg whites
1/4 teaspoon cream of tartar
gradually add, beating on high speed:
1/4 cup sugar
Beat until peaks are stiff but not dry. Use a rubber spatula to carefully and gently fold the egg whites into the batter.
Divide batter between the 3 prepared cake pans. Spread gently and evenly.
Bake 25 to 30 minutes, or just until a toothpick inserted into the center of the cakes comes out with a few moist crumbs on it. Don't over bake.
Let cool in pans, on racks, for 10 minutes. Slide a thin knife around the cakes to loosen them from the pans. Carefully invert cakes and place them, right side up, on cooling racks.
Once cool, frost in between layers and on top with Coconut Caramel Pecan Filling (recipe below.)
Coconut Caramel Pecan Filling:
1 cup brown sugar
1 cup heavy cream
3 large egg yolks
8 Tablespoons (1 stick) salted or unsalted butter (no substitutes)
Cut butter into small chunks and place them, along with the rest of the ingredients, in a smallish saucepan. Cook, stirring constantly, over medium heat until the mixture is thickened and bubbly around the edges. Reduce heat to low and cook, stirring 1 to 2 minutes more.
Remove from heat and mix in:
1 and 1/3 cups sweetened, dried coconut
1 and 1/3 cups chopped pecans
1/2 teaspoon salt
Let cool until spreadable. Spread between layers and on top of your German Chocolate Cake.
Enjoy!
~Melissa
You may enjoy these related posts: