Print Friendly Version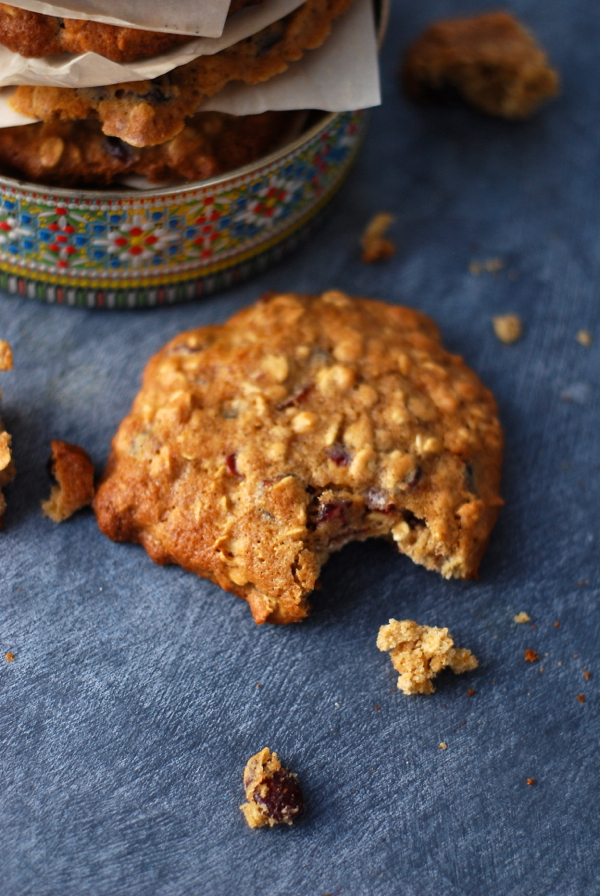 Good Friday afternoon Lovelies. I took a break from writing for a couple hours to treat myself to a leisurely cup of tea with my daughter Andie, some recreational reading, and a stroll to the Antique Mall a couple blocks from my house. I am SO excited about what I found… several great pieces… but the piece de resistance was a Blue Willow soup tureen. All three pieces in perfect condition. Can't wait to make a kettle of something wonderful and bubbly to photograph in it. Maybe lobster bisque? We'll see… I'll do that sometime next week.
I made these yummy, chewy, dunkable cookies yesterday. They're so good, with just a hint of maple and rum…and the craisins make them Christmasy. I froze several dozen to add to my gift baskets. Do you make homemade gifts?
1 and 3/4 cup all-purpose flour
1/2 teaspoon baking soda
1 teaspoon sea salt
2 teaspoons ground cinnamon
1/2 teaspoon ground nutmeg
1/2 cup butter, at room temperature
3 Tablespoons dark rum
1 cup packed, brown sugar
1/3 cup sugar
2 large eggs
1/2 cup maple syrup
2 teaspoons vanilla extract
2 cups oatmeal (not quick cooking)
2 cups dried cranberries
Place rack in middle of oven. Preheat over to 350 degrees F. Line two baking sheets with cooking parchment (or use a silpat sheet.) Sift flour, baking soda, salt, cinnamon and nutmeg into a mixing bowl. Set aside. In the bowl of your countertop mixer, beat butter and sugars until smooth. Add rum, eggs, maple syrup and vanilla. Mix until blended. Add in flour mixture until just incorporated and evenly combined. Fold in oatmeal and cranberries.
Scoop 1/4 cup measurements of the cookie dough onto prepared cookie sheets. Space them a couple inches apart because these cookies will spread. Bake, one sheet at a time, in preheated oven. Cookies are done when tops are set and bottoms are golden brown (15-18 minutes.) Cool on cookie sheets for 5 minutes before transferring to wire racks to cool completely. Store in air tight container for 4 days, or freeze immediately and take cookies out of the freezer and thaw as you need them.
Enjoy!
Happy weekend!
XO,
~Melissa
You may enjoy these related posts: