Print Friendly Version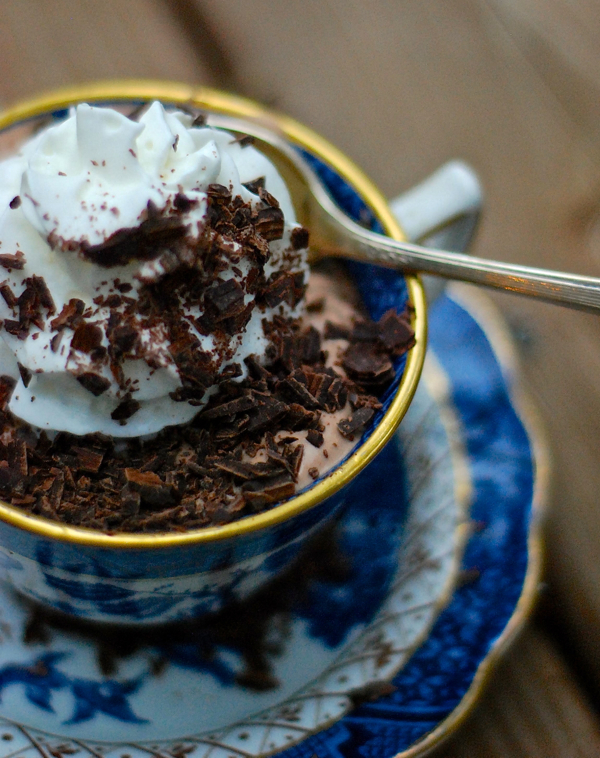 I decided to flip flop my recipes for today and tomorrow. Today got away from me! I just realized it's almost bed time and I haven't posted anything on the blog. I had promised the Mezzaluna Bread today, but it's a pretty long and involved recipe. This one isn't, so, here goes…
This is seriously the easiest chocolate mousse you will ever make. It's delicious too! Add just a drop or two of your favorite liqueur or flavor extract if you'd like. I've made this with Grand Marnier, Chambord, Malibu Rum and creme de menthe and all variations were yummy.
makes 3 teacup-sized servings…
In the short cup of a Magic Bullet Blender with the flat blade (or just a regular blender) combine:
1/2 pint heavy cream
4 Tablespoons chocolate syrup (such as Hershey's)
a few drops liqueur/flavor extract
Blend until smooth. Using a rubber spatula, transfer to pretty teacups or serving vessels of your choice. Top with whipped cream and chocolate shavings if you wish. Fresh mint leaves and berries make a pretty garnish.
Enjoy,
~Melissa
You may enjoy these related posts: