Print Friendly Version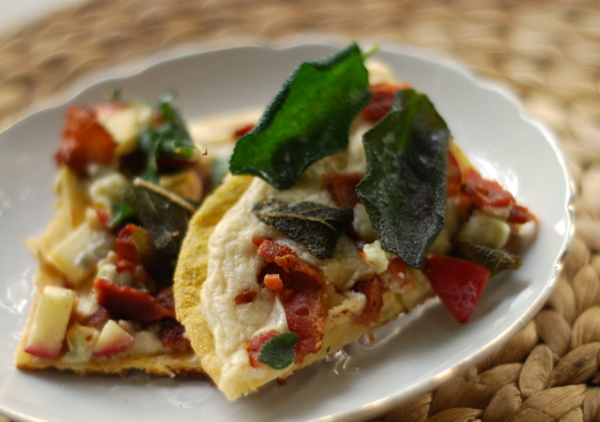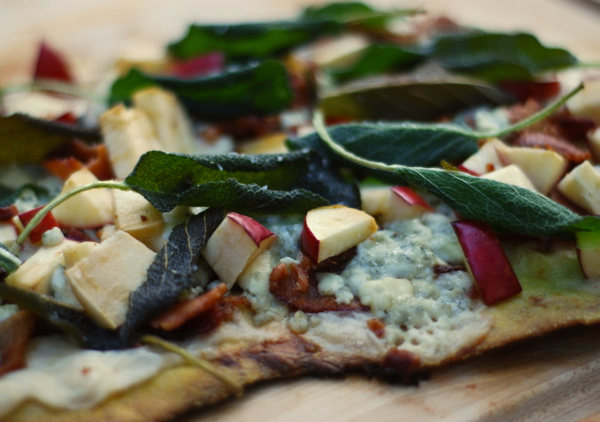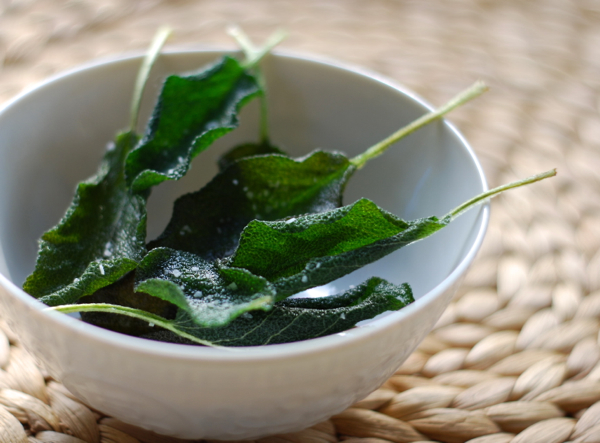 Here's another yummy, unique grilled pizza recipe that I made up. It's so delicious! This would be perfect for a little party appetizer, served with a cold, yummy glass of riesling.
click on this link: FOLLOW THIS POST FOR HOW TO MAKE HOMEMADE CRUST AND HOW TO GRILL PIZZA
For the Bianca Sauce:
We had a sauce similar to this creamy, rich, garlic ambrosia at Pizza Luce a couple weeks ago while on vacation! Pure Heaven!
1/4 cup unsalted butter
3 cloves garlic, minced
1 cup grated Parmesan cheese (Parmigiano Reggiano)
1/2 cup heavy cream
Salt and pepper to taste
Melt butter in a medium saucepan over medium heat. Add garlic and sauté for 1 minute. Mix in the cheese, cream, salt and pepper and heat through, stirring constantly with a wire whisk. The sauce can be used immediately or kept warm over very low heat until ready to use.
For the toppings:
1/2 lb. thick-cut bacon, fried until crispy, cooled and crumbled
about 15 fried sage leaves (see recipe below)
1/2 of a large, firm tart-sweet apple, cut into little chunks (we love honey crisp)
1/3 cup gorgonzola cheese, crumbled
a drizzle of clover honey
coarse sea salt and freshly ground black pepper, to taste
how to fry fresh sage leaves:
Pick fresh sage leaves from your herb garden. Wash them gently under cold water and gently pat them dry with a paper towel. Place them on a plate on your counter and allow them to "wilt" for 2 hours. (Or purchase fresh sage leaves and skip the wilting step.)
Heat an inch or two of canola or peanut oil in a skillet (don't use olive oil for this… it will smoke and burn.)
When the oil is ready, a sage leaf will immediately start to sizzle when dropped into the oil. If your oil is too cool, your sage leaves will become soggy.
Gently drop about 6 sage leaves at a time into the hot oil. Working carefully and quickly, flip the leaves until fragrant and crispy (about 30 seconds per side, if that.) Remove from oil and place on a paper-towel lined plate. Sprinkle with a little sea salt. Repeat with the rest of the sage leaves.
Enjoy!
~Melissa
You may enjoy these related posts: