Print Friendly Version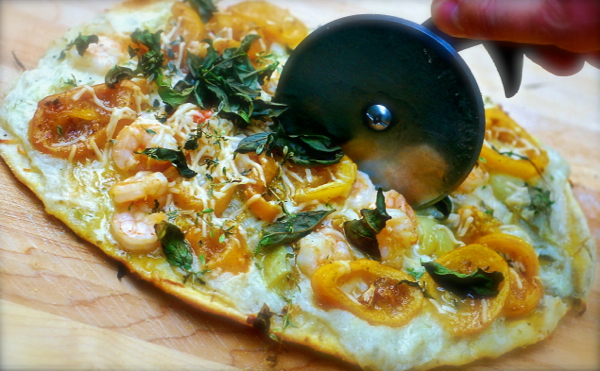 Jeff and I have made a LOT of different grilled pizzas, and I have to say that this is one of my favorites! Pair this with a lovely glass of Sauvignon Blanc wine…
::::: GO HERE for instructions on how to grill pizza :::::
Make the pizza crust dough according to the instructions in the link above. While dough is resting, start preparing the toppings and melting the lemons.
Toppings:
1/3 cup Pomodori Foods Gourmet Scampi Sauce (or homemade scampi sauce)
1/2 cup marinated artichoke hearts, drained well
2 Tablespoons fresh lemon thyme leaves
3 Tablespoons fresh basil leaves
1/2 lb. cooked shrimp (peeled, deveined and tails removed)
1/2 cup fresh Mozzarella cheese cut into small cubes
1/4 cup freshly grated Parmesan cheese
2 large cloves sauteed or oven roasted garlic
2 Tablespoons capers, drained well (optional)
1 large melted lemon (recipe below)
~ Melted Lemons ~
1 large lemon, unpeeled and sliced thin (ends removed and discarded)
1/2 cup chicken broth
2 Tablespoons olive oil
Heat the chicken broth and olive oil in a skillet. Once the sauce begins to boil, reduce heat to a gentle simmer. Place lemon slices into the sauce in the skillet. Cover and allow to simmer for 30 to 45 minutes, or until lemons are very tender and soft.
::: Grill Pizza Crust According to directions in THIS POST :::
Once the crust is grilled on one side and flipped, top with the above toppings and grill an additional 3 minutes on a covered grill.
Enjoy!
~Melissa
You may enjoy these related posts: