Print Friendly Version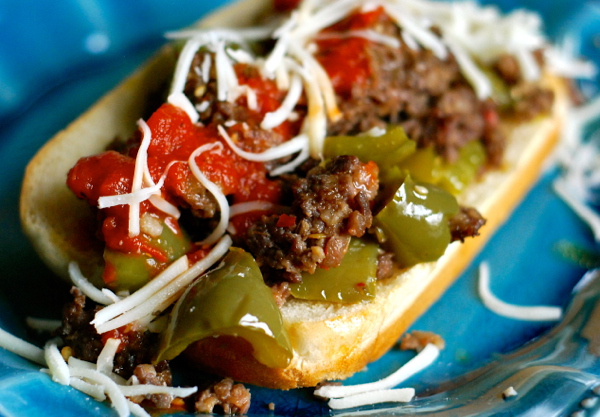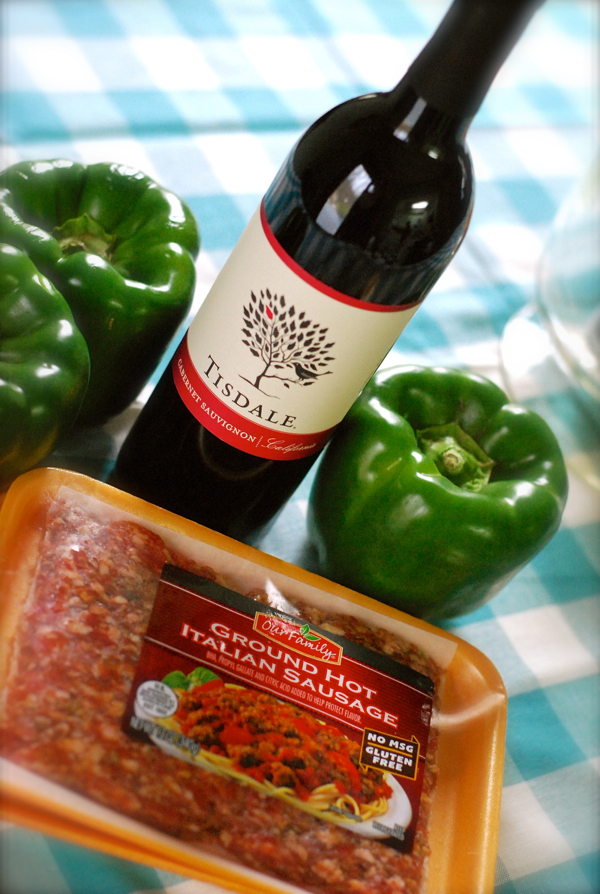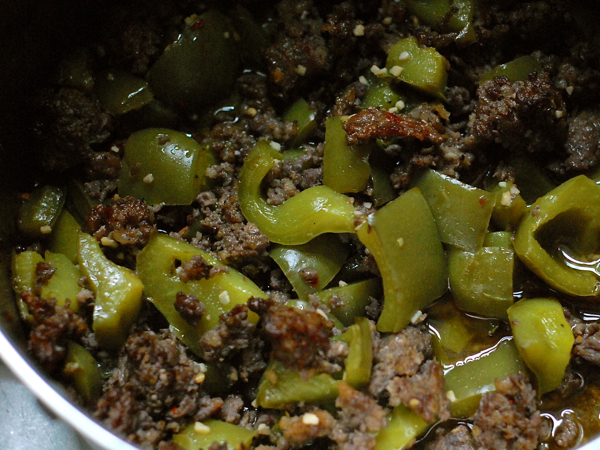 Open a bottle of your favorite dry red wine, listen to Frank Sinatra "Old Blue Eyes" croon over the stereo speakers, and prepare this easy, delicious Italian dish for dinner. This is one of our favorite meals to make for a romantic date night.
Serve the spicy sausage and peppers with crusty, buttery, garlic bread, on rolls, or over pasta! We like ours with a little marinara and Mozzarella cheese on top too, which aren't part of Frankie's original recipe.
Note: If you don't care for spicy, you can use mild or sweet Italian sausage in place of the hot.
~ preheat oven to 350 degrees F. ~
3 large green bell peppers
2 large cloves garlic, minced
3 Tablespoons extra virgin olive oil
freshly ground black pepper, to taste
24 oz. fresh, hot Italian sausage (ground, not links)
2/3 cup dry red wine (such as Chianti or Cabernet Sauvignon)
Remove stems and seeds from peppers and discard. Cut peppers into large chunks. Heat olive oil over medium high heat in a heavy, oven-safe pot. Once heated, saute peppers in oil until firm-tender. Season with pepper and add the garlic. Cook an additional minute. Transfer to a bowl or plate. Set aside. In the same pot, brown the sausage, breaking it up as it cooks. Once it's half browned and still half pink, add the wine. Stir. Remove from burner, cover with a lid or foil, and transfer to preheated oven. Bake for 40 minutes. Once 40 minutes is up, uncover and stir in the reserved peppers. Keep uncovered and return to oven for an additional 30 minutes. Season with salt (if needed) and more pepper, to taste. Serve with garlic bread, on buns, or over pasta. Enjoy as is, or top with marinara, Mozzarella, and Parmesan cheese, if you wish.
YUM!
~Melissa
You may enjoy these related posts: