Print Friendly Version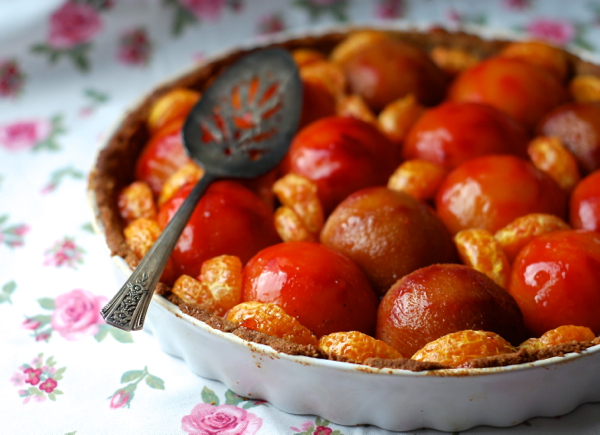 It took a couple tries to get the crust for this tart just right. The first time I used too, too much almond flour and it didn't hold up to the filling. The second time was the charm!
Remember to use a tart pan with a removable bottom (not a glass one like the one pictured above.) I learned the hard way and it stuck to the bottom of the pan. Aren't you glad I figured all of this out? Now you can just have fun cooking and enjoy a yummy, gluten free dessert that doesn't have to be chiseled out of the pan. YAY!
for the crust:
~ preheat oven to 375 degrees F. ~
1 stick unsalted butter or 8 Tablespoons virgin coconut oil
1 cup brown sugar
2 teaspoons bourbon vanilla
1 egg
1 and 3/4 cup gluten free all-purpose flour
1 cup almond flour
1/2 teaspoon salt
1/2 teaspoon cinnamon
Butter an 11 to 12 inch tart pan with a removable bottom. In the bowl of a tabletop mixer, combine butter and brown sugar on medium speed for 2 minutes. Add vanilla and egg. Mix until combined. Mix up the dry ingredients in a separate bowl. Add dry mixture to the wet mixture slowly. Mix just until dough comes together and forms a ball. Press into the bottom of prepared tart pan. Bake for 10 minutes. Remove from oven and cool. Place on cookie sheet.
for the filling:
7 or 8 large, sweet, ripe plums
3 clementines or a handful of fresh berries
2 Tablespoons sugar
1/2 teaspoon nutmeg
3 Tablespoons seedless raspberry jam
1 Tablespoon freshly squeezed lemon juice
Place a big bowl of ice water in a clean sink.
Cut a little "x" in the bottom of each plum and bring a stock pot full of water to a boil. Gently drop plums into the water and remove them after 45 seconds. Immediately transfer plums to the ice water. Remove skins and discard. Cut plums in half and remove the pits. Discard pits. Toss plum halves with the sugar and nutmeg. Place plums, cut side down, into the tart crust. If you have gaps between your plum halves, fill them in with plum or clementine segments or fresh berries (such as raspberries, blueberries or strawberries). Bake for 20 to 25 minutes or just until tart crust is golden brown and plums are tender but not too soft.
Cool tart completely. Remove from pan. Mix the raspberry jam and lemon juice in a small bowl, using a wire whisk. Brush this glaze over the fruit. You will probably have some glaze left over.
Serve tart slices with a dollop of whipped cream, a drizzle of heavy cream or a scoop of peach ice cream.
Enjoy!
~Melissa
You may enjoy these related posts: