Print Friendly Version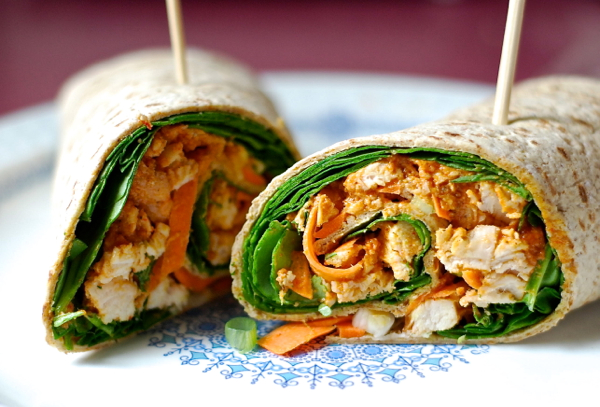 Here's a healthy, spicy sandwich wrap that tastes great with roasted sweet potato wedges or a handful of Terra chips. If you make one wrap, and serve each half with a cup of soup, (this is a good one) then the wrap is sharable.
for 2 whole sandwich wraps (4 halves)
2 Tablespoons peanut butter (I used organic Smucker's)
1 heaping Tablespoon mayonnaise
1 Tablespoon organic BBQ sauce
2 teaspoons Sriracha hot sauce (I used Trader Joe's)
1 teaspoon sesame oil
1 teaspoon lite soy sauce
1 teaspoon lemon juice
1/2 teaspoon smoked paprika
1/2 teaspoon garlic powder
1/2 teaspoon onion powder
1/4 teaspoon chipotle powder
2 small chicken breasts, cooked, cooled, chopped
2 large tortillas or sandwich wraps (I use whole grain Flat Out Wraps)
3 cups loosely packed, fresh spinach leaves (or other greens)
2 green onions, chopped
1 medium carrot "ribboned" using a vegetable peeler
1/2 cup loosely packed cilantro leaves
alfalfa sprouts (optional)
sesame seeds or sunflower seeds (optional)
Combine all ingredients, except for the chicken, in a large mixing bowl and whisk until smooth. Add the chicken and toss until all of the chicken chunks are evenly coated with the sauce.
Place each of the wraps on a separate plate. Divide the spinach between both wraps, covering evenly. Sprinkle on: green onions, carrot ribbons, cilantro, sprouts, seeds, and finally the chicken mixture. All of the ingredients should be applied in an even layer for easy wrapping. Once everything is divided between the wraps, roll them up, as tightly as possible. Cut them in half on the diagonal, and skewer each half to keep them from unwrapping.
Enjoy!
~Melissa
You may enjoy these related posts: