Print Friendly Version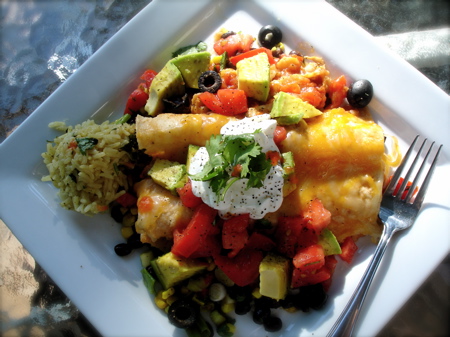 ~chicken enchiladas~
Mr. Flugelman: "Do you know what 'nada' means?"
Dusty Bottoms: "Isn't that a light chicken gravy?"
~from the movie The Three Amigos
This is a recipe for chicken enchiladas that was adapted from Tyler Florence's version. I tweaked the seasonings, substituted cornstarch for flour for thickening,  omitted the corn and added several toppings. These are the best enchiladas I've ever tasted. This recipe makes 20, which is a lot, so if you're not having company just freeze what you don't eat.
1 and 1/2 lb. boneless, skinless chicken breasts
3 Tablespoons olive or vegetable oil
salt and pepper
2 teaspoons cumin
2 teaspoons garlic powder
1 teaspoon taco seasoning
1 large onion, chopped
2 large cloves garlic, minced
5 canned, whole green chiles, seeded and chopped
4 canned chipotle chilies in adobo, seeded, minced
1 (28 oz.) can ro-tel stewed tomatoes
2 Tablespoons cornstarch
20 corn tortillas (I used white)
2 cups canned enchilada sauce
2-3 cups shredded cheddar-jack cheese
Garnishes:
fresh cilantro, chopped
scallions, chopped
fresh tomatoes, chopped
black olives, sliced
avocado, chopped
sour cream
hot sauce
Coat a large saute pan with oil. Brown the chicken, adding seasonings and cook until no longer pink. Remove chicken to a plate to cool.
Saute onion in chicken drippings and 1 Tablespoon butter. Cook until tender. Add garlic. Cook an additional minute. Add chilies, chipotles and stewed tomatoes. Cook until the mixture starts to bubble slightly. Pull chicken breasts apart by hand into shredded strips. Add to saute pan. Mix well. Dust with cornstarch to help set and thicken, using a wire whisk to avoid any clumping. Simmer gently until thickened.
Coat the bottoms of 2 (9×13) glass cake pans with 1/2 cup of the enchilada sauce each. Microwave tortillas, 4 at a time, on high for 30 seconds. Pour the rest of the enchilada sauce into a shallow bowl. Dip each tortilla in sauce to lightly coat. Spoon 1/4 cup chicken mixture into each tortilla. Fold over filling. Place 10 enchiladas in each of the cake pans, seam side down. Top with remaining sauce and cheese. Bake for 15-20 minutes in a 350 degree oven until cheese melts. Garnish with the suggested garnishes or whatever you like. Serve with drunken beans or cowboy caviar, and jasmine rice that has been seasoned with a little onion powder, curry and cinnamon.
Enjoy!
~Melissa
You may enjoy these related posts: