Print Friendly Version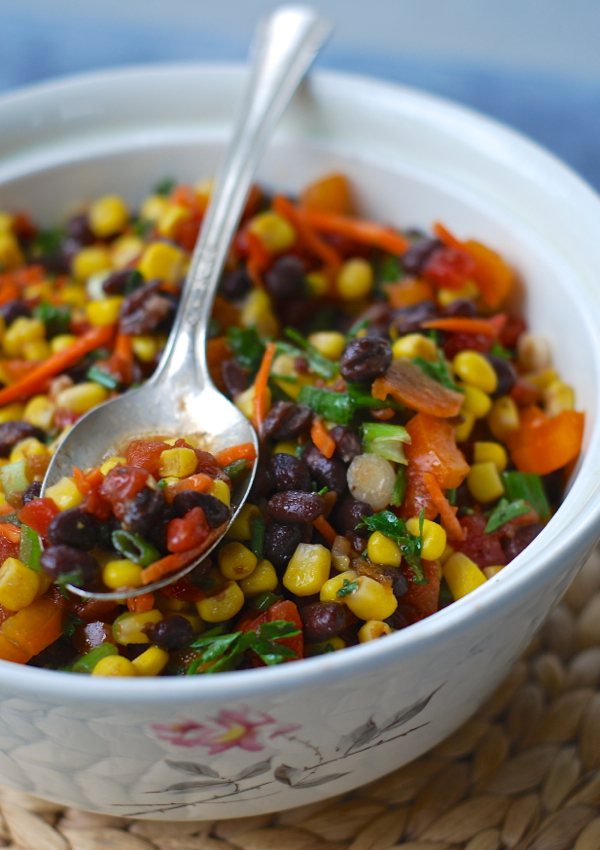 ~cowboy caviar~
There are a lot of ways you can make this. I've doubled the recipe and substituted a can of black eyed peas for one of the cans of black beans before…I've played with the spices and added tamari sauce and curry…this is the version I made this past weekend. Here's a post that includes another version of this recipe that I just love. There's also a great recipe that I got from the Good Earth Restaurant years ago called Winter Bean Salad that would fall into this category. My friend Clare calls this salad/salsa Cowboy Caviar. I think that's such a cute title.

In a large bowl, combine:
1 (14.5 oz.) can organic black beans, drained and rinsed
1 (14.5 oz.) can organic, sweet corn, drained
1 (14.5 oz.) can  Muir Glen organic fire roasted, diced tomatoes, undrained
1/2 sweet orange bell pepper, chopped
4 scallions, chopped
1/4 cup extra virgin olive oil
1/4 cup balsamic vinegar
1 teaspoon cumin powder
1 teaspoon onion powder
1/2 teaspoon garlic powder or a fresh minced garlic clove
1 teaspoon dried, or 2 Tablespoons fresh, chopped parsley or cilantro
salt, freshly ground pepper, and cayenne pepper to taste
Serve over salad greens or with corn chips as a dip.
Enjoy!
~Melissa
You may enjoy these related posts: