Print Friendly Version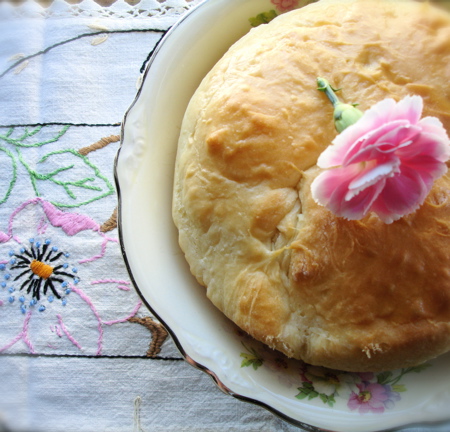 photograph by Melissa Placzek
~No Knead Bread~
Unlike many of the no-knead bread recipes out there, this one doesn't take 24 hours to make. I got this recipe from a friend of mine who makes this for her family every week. Tried and true, and so yummy. Jeff and I made it into honey toast and had it with our chamomile tea a couple nights ago. MMMMM!
Combine and set aside:
2 cups all-purpose flour
1/4 cup sugar
1 Tablespoon salt
2 packages dry yeast (not quick-rise)
Heat until warm:
1 cup water
1 cup milk
1/4 cup canola oil
Other ingredients to add later:
2 and 1/2 cups additional flour
1 egg
Preheat oven to 350 degrees F. Butter 2 small bread pans. Once the liquids are warm, add the egg and then stir into the flour mixture. Stir with a wire whisk for 3 minutes. Then add the rest of the flour, one cup at a time, and stir with a wooden spoon until smooth and just combined. Cover with a piece of buttered plastic wrap and allow to rise in a warm place for an hour  (or until doubled in size.) Gently pat the dough down with well-floured hands. Divide dough into 2 portions and place in the bread pans (I used 2 small, oven-safe Pyrex mixing bowls.) Bake at 350 for 35 minutes (or until golden and pulling away from edges of the pan slightly.)
Enjoy!
~Melissa
You may enjoy these related posts: