Print Friendly Version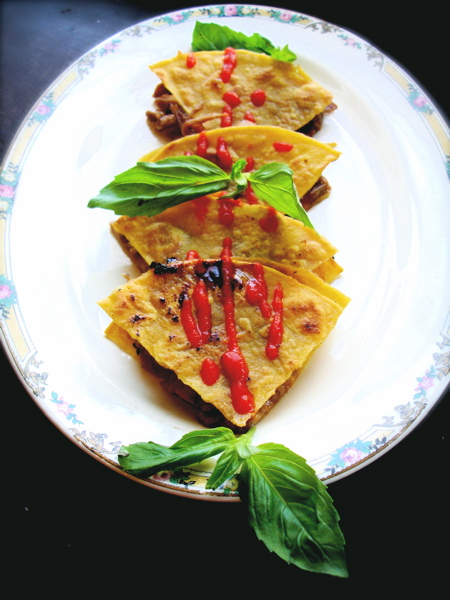 photograph by Melissa Placzek
Jeff made his roast duck over the weekend and we had leftovers in the fridge. So, I decided to create a new dish for lunch today! What I ended up with was seriously one of the best things I've ever eaten. Try this…I really think you'll like it. If you don't have duck, substitute dark chicken meat.
~Melissa's Teriyaki Duck Quesadillas~
serves 6

3 cups cooked, shredded duck
1/4 cup teriyaki sauce (I used La Choy)
1/4 cup honey
2 teaspoons Sriracha hot pepper sauce
a little fresh ground pepper
2 teaspoons balsamic vinegar
1/2 teaspoon dry mustard
1/2 teaspoon dry ginger
1/2 teaspoon sweet curry powder
1/2 medium onion, chopped
1 large garlic clove, minced
1 and 1/2 cups shredded sharp cheddar cheese
12 small, soft corn tortillas
Saute the chopped onion in a couple teaspoons olive oil until onion is tender an a little browned. Add garlic and cook 1 more minute. Combine the cooked onion and garlic with everything except the cheese and corn tortillas. Rub the tortillas with a little olive oil. Place 1 tortilla on a skillet over medium-high heat. Top with 1/2 cup of the duck mixture and flatten a little. Sprinkle 1/4 cup shredded cheddar over the duck mixture and top with another tortilla. Flatten again. Cook until bottom tortilla is slightly browned (about 2 minutes.) Carefully flip the quesadilla and cook another couple minutes, or until cheese is melted and quesadilla is heated through. Remove quesadilla to a cutting board. With a sharp chef knife, carefully cut quesadilla into 4 pieces. Plate and top with a little extra Sriracha. Serve with sweet cole slaw or fruit if you wish.
Enjoy!
~Melissa
You may enjoy these related posts: