Print Friendly Version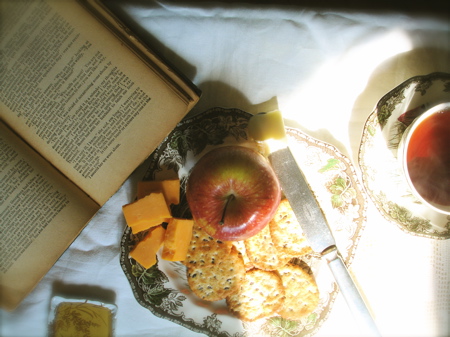 photograph by Melissa Placzek
:: Tea of the Week ::
Earl Grey
Traditionally only China black tea was used to blend Earl Grey, but today you can find the label on black, green and even oolong teas.
Earl Grey has the distinctive flavor and aroma of Bergamot oranges. To arrive at this flavor, tea leaves are blended with the essential oil extracted from the rind of the Chinese citrus fruit Bergamot.
There are many legends and myths surrounding how this tea was named. None of these legends have been proven, but they're still fun to read about.
From Wikipedia:
The Earl Grey blend is named after 2nd Earl Grey, British Prime Minister in the 1830s, who reputedly received a gift, of tea flavoured with bergamot oil, taken from bergamot, a citrus fruit typical of Southeast Asia and grown commercially in Italy.
According to one legend, a grateful Chinese mandarin whose son was rescued from drowning by one of Lord Grey's men first presented the blend to the Earl in 1803. The tale has no basis in fact, as Lord Grey never set foot in China and the use of bergamot oil to scent tea was then unknown in China. However, this tale is subsequently told (and slightly corrected) on the Twinings website, as "having been presented by an envoy on his return from China."
Jacksons of Picadilly claim they originated Earl Grey's Tea, Lord Grey having given the recipe to Robert Jackson & Co. partner George Charlton in 1830. According to Jacksons the original recipe has been in constant production and has never left their hands. Theirs has been based on China tea since the beginning.
According to the Grey family, the tea was specially blended by a Chinese mandarin for Lord Grey, to suit the water at Howlick Hall the family seat in Northumberland, using bergamot in particular to offset the preponderance of lime in the local water. Lady Grey used it to entertain in London as a political hostess, and it proved so popular that she was asked if it could be sold to others, which is how Twinings came to market it as a brand [blending the tea with the rind of Seville oranges instead of the traditional Bergamot.]
Character- Deliciously flavored and scented with Bergamot citrus fruit which lends nuances of lemon and orange.
Appearance-Varies depending on the tea the Bergamot is blended with.
Food Pairing- I love anything lemon or orange with this tea. For a lovely orange cake recipe click HERE.
:: Tea Fact ::
The tea plant, Camellia Sinesis, was discovered by a Swedish botanist in 1753. It is a Chinese evergreen shrub with delicate white flowers and can grow to be about 15 feet tall.
What's in your teacup?
~Melissa
You may enjoy these related posts: