Print Friendly Version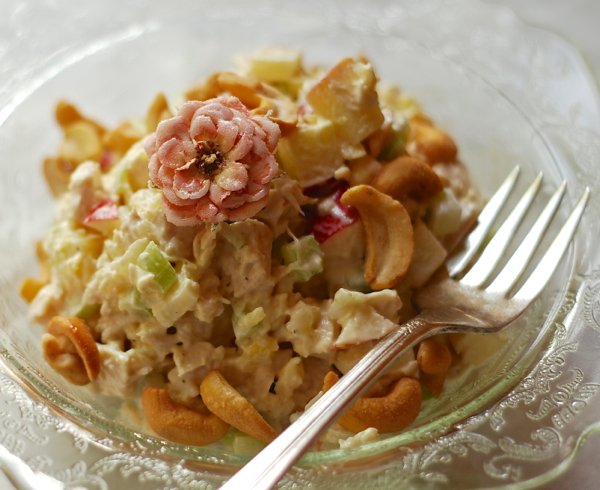 The sun is finally shining in the Mississippi river valley. We spent the morning at Dunn Brother's coffee shop while Jeff was doing a photo shoot. Now we're hanging out on the deck, doing a little summer reading, lounging at the umbrella table and napping on the hammock. We're looking forward to another blufftop picnic this evening. This delicious salad would be perfect picnic fare. I printed this recipe waaaaaaaaay back in 2000 off of the Gooseberry Patch website and it's been residing in my recipe file ever since. I can't imagine why I waited so long to try it. It's creamy, fruity, and the perfect balance of sweet and salty with a cashew crunch. I adapted it a little, but mostly it's the same as the original. I hope you love it as much as we do! Double the ingredients to feed a crowd, or just follow the measurements below to feed a family of four.
3 and 1/2 cups cooked, chilled and chopped chicken meat
3/4 cup real mayonnaise
2 and 1/2 teaspoons Dijon mustard with white wine (I used Trader Joe's)
1 cup crushed pineapple, drained very well
1 and 1/2 cups apple, unpeeled and cut into small cubes
1 teaspoon sea salt
1 teaspoon freshly ground black pepper
2 large sticks celery, chopped fine
1 cup cashews for garnish
edible flowers (fresh or crystallized) for garnish, optional
Combine chicken with mayonnaise and mustard. Blend well. Add pineapple, apple, salt, pepper and celery. Mix so that all ingredients are evenly incorporated. Garnish with cashews and flowers just prior to serving.
Enjoy!
~Melissa
You may enjoy these related posts: