Print Friendly Version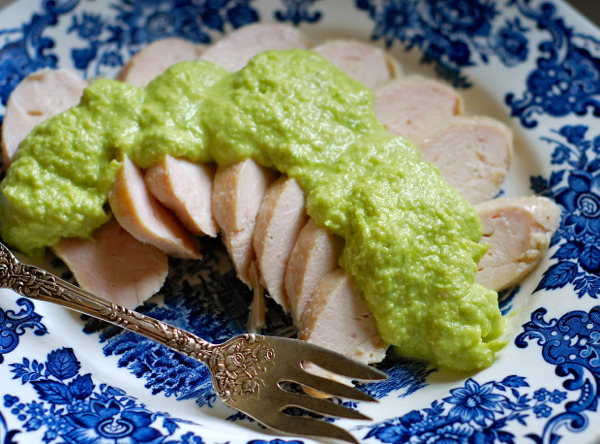 One of my favorite dishes EVER! And now that I'm vegan, I still make the sauce to serve with seitan or oven roasted cauliflower! You can use this amazing sauce as a sandwich topping, as a dressing for macaroni salad, as a salad dressing, or over grilled pork chops too. So fresh and delicious!
chicken version:
4 large, boneless skinless chicken breasts, cooked any way you like and chilled
for the ginger sauce:
1 cup fresh, peeled ginger, cut into chunks
6 green onions (including the green tops)
3/4 cup coconut sugar OR brown sugar (or 1/3 cup agave syrup)
1 cup extra virgin olive oil
6 Tablespoons white or apple cider vinegar
sea salt, to taste
freshly ground black pepper, to taste
Place everything in the bowl of a large food processor. Pulse until smooth and uniform, and no large chunks remain. Place in a jar, or other covered glass container. Chill for at least 2 hours prior to serving. Wonderful with a side of Hawaiian Macaroni Salad, or Oriental Noodle Slaw!
vegan roasted cauliflower version:
~ preheat oven to 450 degrees F. ~
1 large head cauliflower, separated into uniform florets (about the size of your thumb)
1/2 cup all purpose flour
1/2 cup cold water
vegan seasoning salt (such as Simply Organic)
freshly ground black pepper, to taste
Place cauliflower pieces in a large mixing bowl. Combine flour, water, and seasonings in a smaller mixing bowl. Whisk until smooth. Pour over cauliflower and toss to coat.
Rub a large, rimmed baking sheet with a little canola oil or light olive oil. Spread coated cauliflower evenly over pan so the pieces all have a little space around them.
Bake in preheated oven for 8 minutes. Gently toss pieces. Cook an additional 8 minutes, or until cauliflower is tender and slightly golden brown.
Remove from oven and serve hot or chilled with some of the ginger sauce for dipping!
Enjoy!
~Melissa
You may enjoy these related posts: