Print Friendly Version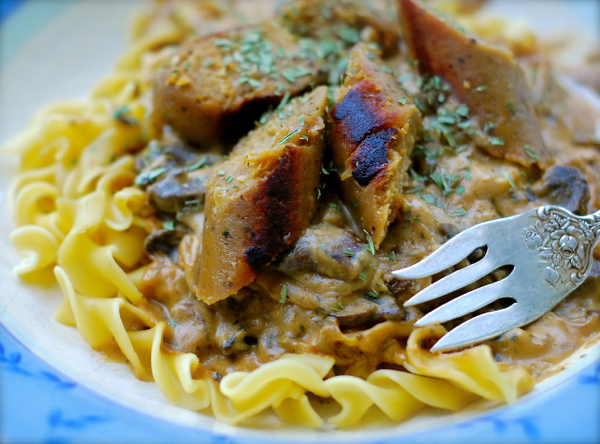 A friend of mine asked me if I knew of a good mushroom stroganoff recipe that's delicious, creamy, flavorful, and vegan. I had been craving stroganoff around the time he asked me, and I thought it might be a good idea to create one.
This is better than any beef stroganoff I've ever eaten. EVER. No, I'm not just saying that. And, no, it's not "because I don't remember what meat tastes like" as my daughter likes to say to tease me, lol. It's seriously amazing, and when topped with a Field Roast Apple Sage "Sausage" it is outstanding. I'm looking forward to serving this for our next dinner party meal.
vegan egg noodles cooked according to package directions OR mashed potatoes
4 Tablespoons vegan butter (such as Miyokos or Earth Balance)
1 medium onion, chopped fine
3 large garlic cloves, minced
4 Tablespoons all purpose flour
2 cups vegetable broth
1 Tablespoon liquid aminos or soy sauce
1 Tablespoon fresh lemon juice
2 Tablespoons tomato paste
1 to 2 lb. portobello mushrooms, washed and sliced
1 Tablespoon fresh thyme OR 2 teaspoons dried thyme (or tarragon)
1/4 cup cream sherry
cashew sour cream (recipe below)
freshly ground black pepper, to taste
Field Roast Apple Sage seitan "sausages"
Saute onion and garlic in butter until tender. Add flour, cook 30 seconds, stirring constantly. Add broth, aminos, lemon juice, and tomato paste. Stir until thick and bubbly over medium heat. Add mushrooms and thyme/tarragon. Stir to combine. Cook for 5 minutes. Whisk in sherry and cook until heated through (approximately 4 minutes.) Remove from heat and stir in the cashew sour cream (I mix in all of it). Serve over noodles or mashed potatoes.
To cook the sausages: Heat in a skillet with a little olive oil until heated through and browned on all sides. Slice and place on top of stroganoff.
for the cashew sour cream:
1 cup raw cashews
1/2 cup unsweetened, plain almond milk
1 Tablespoon fresh lemon juice
1 teaspoon apple cider vinegar
1/4 teaspoon sea salt
Place cashews in a bowl. Cover with water and place in refrigerator. Allow cashews to soak for 8 hours. Once the time is up, drain well. Place cashews and the rest of the ingredients in the bowl of a blender. Blend until creamy and very smooth.
Use to thicken sauces whenever a recipe calls for sour cream. Store in an airtight container in refrigerator for up to 5 days. Makes 1 to 1 and 1/4 cups.
Enjoy!
~Melissa
You may enjoy these related posts: