Print Friendly Version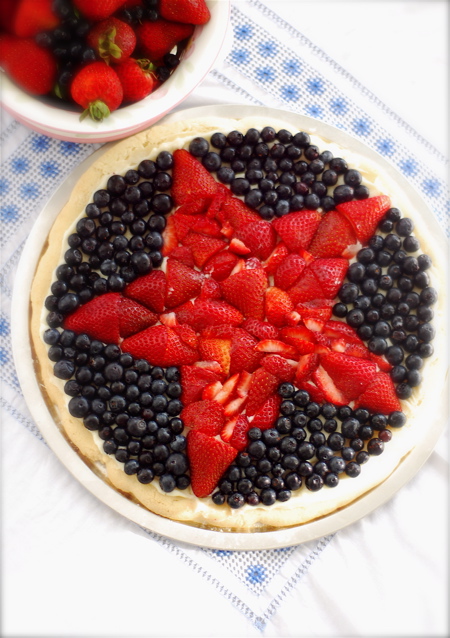 ~ gracie's fruit pizza ~
Gracie has been making more and more masterpieces in the kitchen ever since taking home-ec this past spring. She made the beautiful fruit pizza pictured above, and made the crust from scratch. It's not just pretty, it's absolutely delicious. We enjoyed ours with tall glasses of fruity iced tea!
Check back for more recipes by Grace. This week she's offered to cook dinner! Jeff and I are both excited to see what menu she decides on.
for the crust:
1/2 cup real butter (not margarine)
1 and 1/4 cup sugar
1 large egg
1 and 1/4 cup flour
1 teaspoon cream of tartar
1/2 teaspoon baking soda
1/4 teaspoon salt
Preheat oven to 350 degrees F. Cream butter and sugar in the bowl of a tabletop mixer. Add the egg and mix just until evenly combined. In a separate bowl, combine the dry ingredients. With the mixer on low, slowly add the dry ingredients to the creamed butter mixture. Mix just until the ingredients form a soft ball of cookie dough.
With floured hands, press the cookie dough evenly on an ungreased, 12-14 inch pizza pan. Bake 12-15 minutes, or just until dough is set and starting to turn golden at the edges. Cool completely before adding the pizza toppings.
for the pizza toppings:
8 oz. cream cheese
1/2 cup sugar
2 teaspoons pure vanilla extract
a variety of fruits and berries
Whip the cream cheese, sugar and vanilla until evenly combined, light and fluffy. Spread evenly over completely cooled cookie crust. Top with your favorite fruits and berries. This time Gracie just used strawberries and blueberries for her patriotic fruit pizza. Other yummy toppings might include: pineapple, blackberries, kiwi, bananas, apple chunks, mandarin orange segments, grapes… Have fun creating yours!
Enjoy!
~Melissa & Grace
You may enjoy these related posts: