Print Friendly Version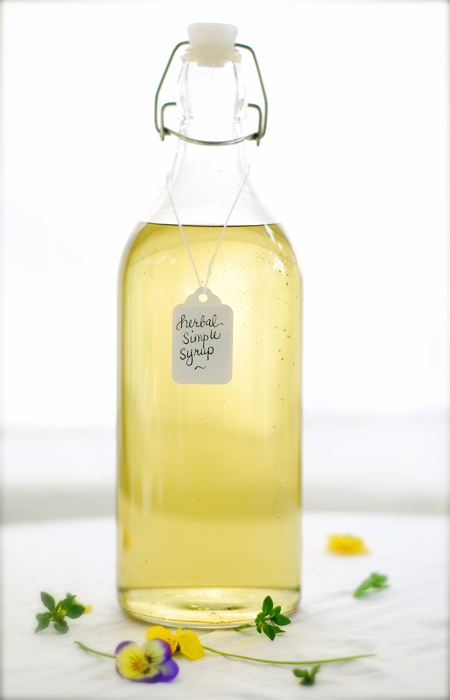 ~ herbal simple syrup ~
Transform sugar, water and herbs into a flavorful syrup that will make your iced tea and lemonade sing! It's so simple I could hardly believe it. The result is a gorgeous syrup that will keep in your fridge all summer. Little bottles of this would make lovely favors for a tea party in the garden.
How to make some teatime magic…
3 cups water
3 cups sugar
generous handful of fresh thyme, basil and mint (about 1/2 cup total)
Place the above ingredients in a saucepan. Stir and bring to boil. Boil for one minute. Remove from heat and allow all of the ingredients to rest and cool for 30 minutes. After the 30 minutes is up, gently rough up the herbs with a muddler or a fork to release as many of those yummy oils as possible. Strain and pour into a bottle using a funnel. Label and store in your refrigerator until ready to use.
Uses:
*a sweetener for iced tea, lemonade and Arnie Palmers
* a lovely, fresh addition to summer cocktails
* lightly drizzle over vanilla ice cream or gelato
* drizzle over fresh fruit
* use as a sweetener for summer cakes
* mix a little with shaved ice for a refreshing warm weather treat
~ herbal essence vodka fizz ~
fill a lowball or rocks glass with ice
add a shot of vodka and a shot of herbal simple syrup
top with club soda or seltzer water
garnish with herb sprigs and pesticide-free rose petals
Enjoy!
~Melissa
You may enjoy these related posts: