Print Friendly Version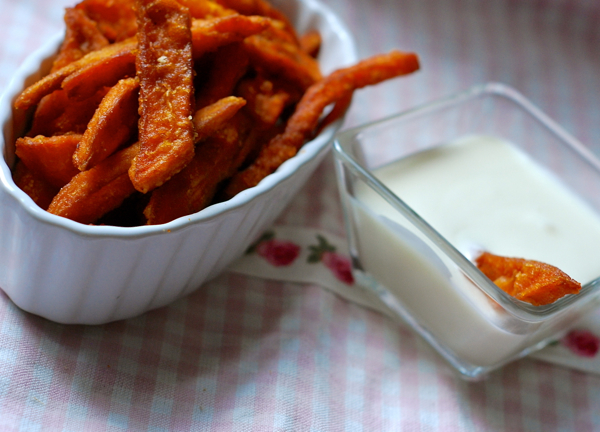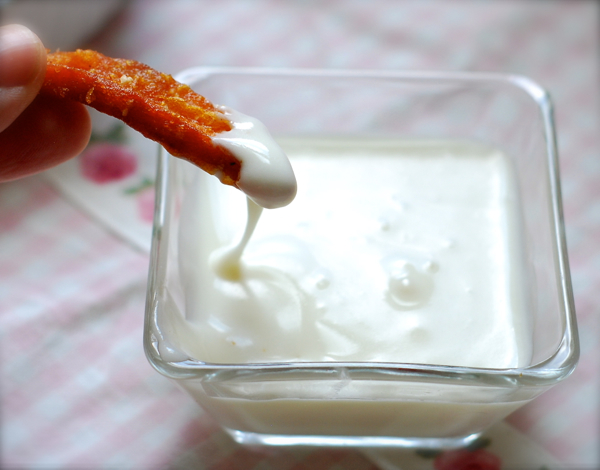 Whenever we go to our local Applebee's I always get the same three things. For the entree, either the Asian Chicken Salad, or the Quesadilla Burger… and for an appetizer I get the Sweet Potato Fries with Maple Butter Blondie Sauce!
It's pretty easy to make this treat at home. If you want to take the shortcut, simply buy Amy's frozen sweet potato fries at the grocery store and make them according to the package directions. They're super yummy and convenient.
This time, I decided to make homemade oven-baked sweet potato fries. They're every bit as good as deep fried, and quite easy to make. There's not a deep fat fryer to clean afterwards either, which is a big plus.
You can either make these decadent (using butter), or healthy (using olive oil.) However, once you dip them in the sauce they're not really healthy anymore. 😉
for the sweet potato fries:
~ preheat oven to 450 degrees F. ~
6 whole sweet potatoes, peeled and cut into thin "matchstick" fries
1/2 cup melted butter OR olive oil
salt
In a large bowl, toss the potato sticks and butter (or oil.) Once evenly coated, transfer to 2, parchment-lined baking sheets. Arrange fries so they're in one layer. Bake in preheated oven for 15 to 20 minutes, tossing the fries gently after about 7 minutes. Cook until sizzling and golden, being careful not to burn them. Once done, remove from oven and allow the fries to rest on the baking sheets for 5 minutes before seasoning to taste with salt and serving.
~ for the Applebee's Copycat Maple Butter Blondie Sauce ~
1/3 cup butter, softened to room temperature
1 cup sugar
1 cup cream cheese, softened to room temperature
1/4 cup maple syrup
heavy whipping cream
Place butter, sugar, cream cheese, and maple syrup in the bowl of a stand mixer. Using the whisk attachment, whip until smooth. Add cream, 1 teaspoon at a time, to thin the sauce to desired consistency.
Enjoy sauce with sweet potato fries or as a topping for desserts!
~Melissa
You may enjoy these related posts: