Print Friendly Version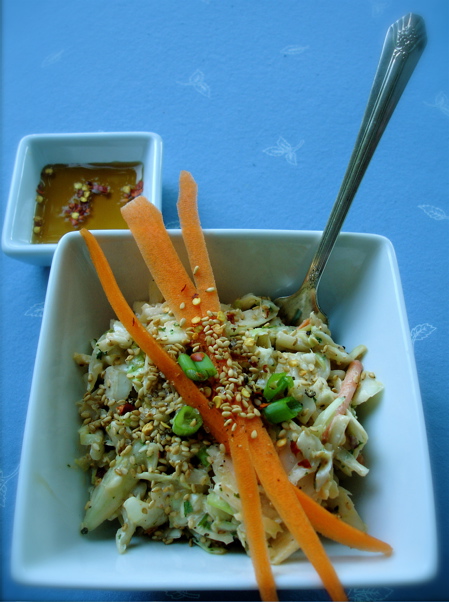 ~asian coleslaw~
This is Jeff's favorite coleslaw. Even when I'm just making a side salad to go with grilled chicken or burgers, he likes it this way. I think it's especially good with sticky chili-ginger shrimp and udon noodles in miso, so I included links to these recipes for you in this post. I've made this with bagged coleslaw mix which is super easy and very good, but if you're going for something a little fancier, (like if you're having company over) you can make this with finely shredded Napa cabbage. I've used this as the salad course in my bento box dinners for years and topped each little serving with a few mandarin orange segments. I hope you like it as much as we do!
1 bag pre-made coleslaw mix or 6 cups shredded Napa cabbage
2 shredded carrots
4 green onions, chopped (with the green tops)
1/4 cup sunflower seeds or toasted sesame seeds
1/3 cup real mayonnaise
2 teaspoons dark sesame oil
2 teaspoons soy sauce
2 teaspoons rice vinegar
1 Tablespoon honey
1 Tablespoon fresh grated ginger root
1/2 teaspoon garlic powder or minced garlic
2 teaspoons Sriracha hot sauce
salt and red pepper flakes to taste
Pour shredded cabbage, carrots green onions and sunflower seeds into a big mixing bowl and mix well. In a separate bowl, using a wire whisk, combine the rest of the ingredients. Pour over the cabbage mixture. Mix well. Adjust ingredients for flavor and consistency. (Sometimes I add a little more cabbage to make the salad dryer…depends on my mood.)
Serve with a side of fish sauce for drizzling if you like fish sauce. Very yummy flavor combination.
Enjoy!
~Melissa
You may enjoy these related posts: