Print Friendly Version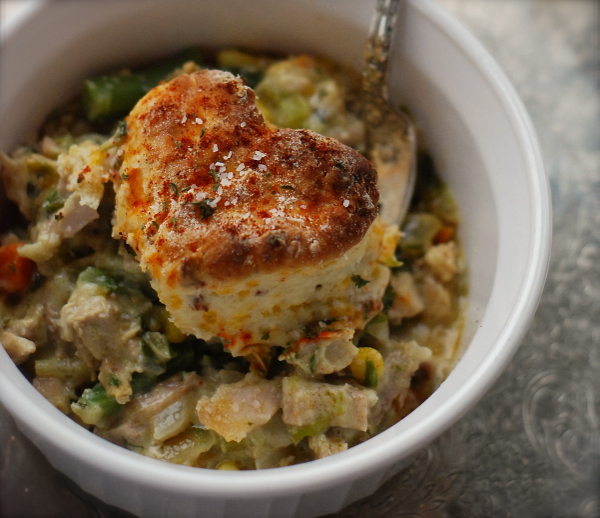 With the days getting shorter, us food phtographers/food bloggers have less and less time in the evening to take photos of what we cooked for dinner. More often than not, I save some of the meal so I can photograph it the next day. Once in awhile I think "hey, I'll just stop being a perfectionist for once and snap a quick photo of the food when it comes out of the oven." But, it never works.
I get lots of emails and messages asking for photography tips, and I thought I'd just pass this very simple rule along to you. Take your photos in natural light. Don't take food photos in your kitchen, under artificial lighting, at night. The difference between the two? What you see above… and this…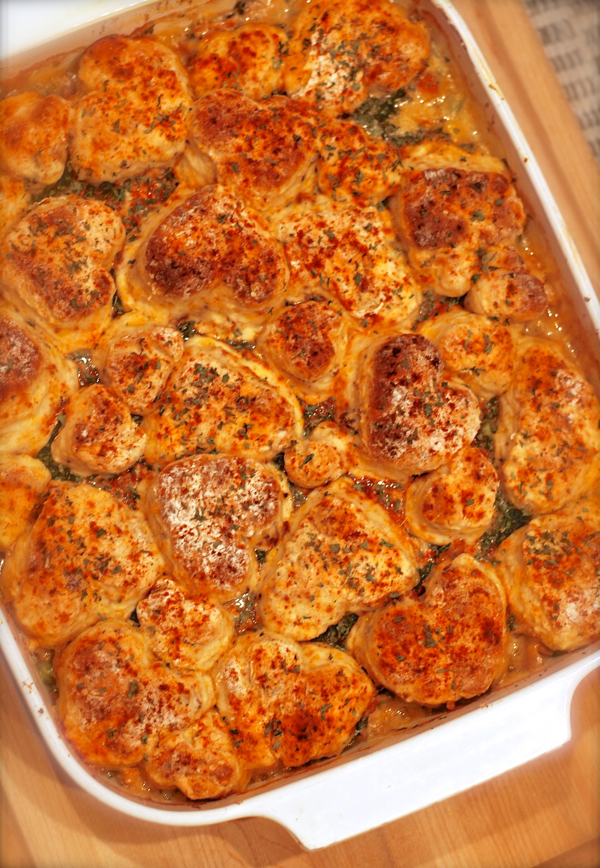 Glowing neon orange with hints of green. The gravy almost looks plastic. Not appetizing 😉
Now for the recipe…
~Turkey Bacon Biscuit Pot Pie ~
For an easy, delicious, comforting meal. This goes together pretty quickly, and everyone loved it!
~ preheat oven to 425 degrees F. ~
for the filling:
2 cups chicken stock/broth
1/4 cup butter
1/4 cup flour
1 large onion, chopped
1 cup celery, chopped
1 and 1/2 cups mixed vegetables (I used carrots, peas, corn & green beans)
4 to 6 cups shredded, cooked turkey or chicken
1/2 cup heavy whipping cream
1 Tablespoon parsley
1 teaspoon garlic powder
1/2 teaspoon freshly ground black pepper
Butter a 9 x 13 glass baking dish.
Place butter in a large, nonstick skillet over medium-low heat. As soon as it melts, add the flour and stir, using a whisk. Stir constantly, lowering the heat if you need to, until the mixture is a light gold color and fragrant. Be careful not to burn. Stir in the chicken stock and mix until well combined and the mixture thickens a bit. Transfer this to a large bowl and set aside.
Wash the skillet. Add a little olive oil or a little more butter to the skillet. Saute the onion, celery and mixed vegetables over medium heat until tender. Mix the vegetables and cream into the thickened stock in the bowl. Add the shredded turkey, parsley, garlic powder and pepper. Stir until evenly combined. Pour into the prepared baking dish and even out with a rubber spatula.
for the bacon cheddar biscuits:
4 strips of bacon fried until crisp, and crumbled
2 cups all purpose flour
3 teaspoons baking powder
1/2 teaspoon baking soda
2 teaspoons sugar
1 cup grated cheddar cheese
1 and 1/2 cups buttermilk
1 Tablespoon bacon drippings
1 teaspoon garlic powder
Mix all of the biscuit ingredients together until evenly combined and moistened. Remove dough to a floured surface, and with floured hands, pat to 1 inch thickness. Using a biscuit cutter, cut out biscuits using all of the dough. Place the biscuits over the top of the filling mixture in the baking pan. Sprinkle a little smoked paprika, parsley and a pinch of nutmeg over the top (if you wish.) Place the pot pie in preheated oven and bake for 30 to 35 minutes, or until filling is piping hot and bubbling and the biscuits are golden brown. Remove from oven and allow to rest for 5 minutes before serving.
Enjoy!
~Melissa
You may enjoy these related posts: