Print Friendly Version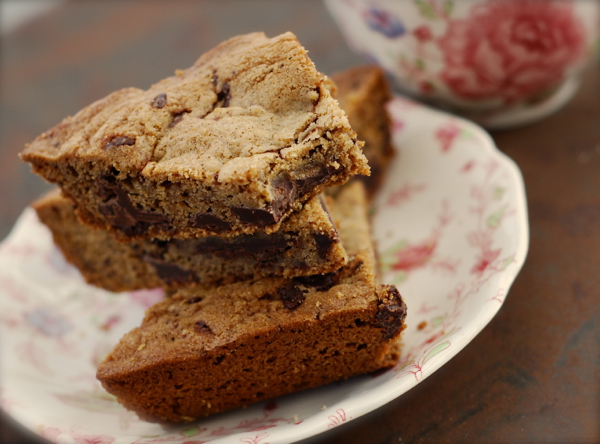 A few weeks back, a darling reader and friend of ChinDeep, sent me a huge box of chocolate from Belgium. It was packed with fancy truffles, beautiful chocolate bars of all varieties, and amazing Cote D'Or baking chocolate. We savored every last bite of that wonderful surprise, and now I am sad to say all of the chocolate is gone. It really didn't have much of a chance in this house with three confirmed chocoholics, hee hee. What a lovely treat. Thanks, Dolores!
These yummy chocolate chunk blondies include a whopping cup of dark, bittersweet,  Belgian chocolate. You can use semi-sweet chocolate chips in place of the chocolate chunks if you must, but if you decide to splurge on the Cote D' Or, you won't regret it. These are marvelous!
~ preheat oven to 350 degrees F. ~
2 sticks real, unsalted butter (no substitutes)
1 and 1/2 cups brown sugar
2 teaspoons pure vanilla extract
2 large eggs, lightly beaten
2 cups all-purpose flour
1 teaspoon baking soda
1 teaspoon salt
1 heaping cup Belgian, bittersweet chocolate chunks
Butter a 9 x 13 glass baking pan.
Brown the 2 sticks of butter in a skillet until it reaches a golden amber color, and smells nutty. Cool a bit. Mix butter, brown sugar, vanilla and eggs in a large mixing bowl. In a separate mixing bowl, combine the flour, soda and salt until well incorporated. Mix wet and dry ingredients together until evenly combined. Gently fold in the chocolate chunks. Spread in prepared baking pan, and bake for 30 minutes exactly. Don't over-bake, a toothpick test doesn't work on these bars. Allow the blondies to cool completely in the pan before cutting and serving.
Enjoy!
~Melissa
You may enjoy these related posts: