Print Friendly Version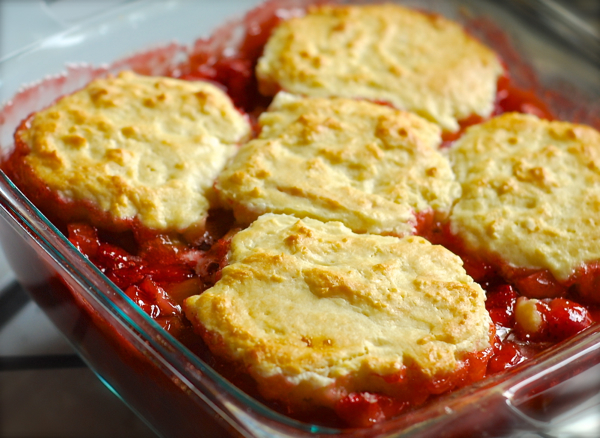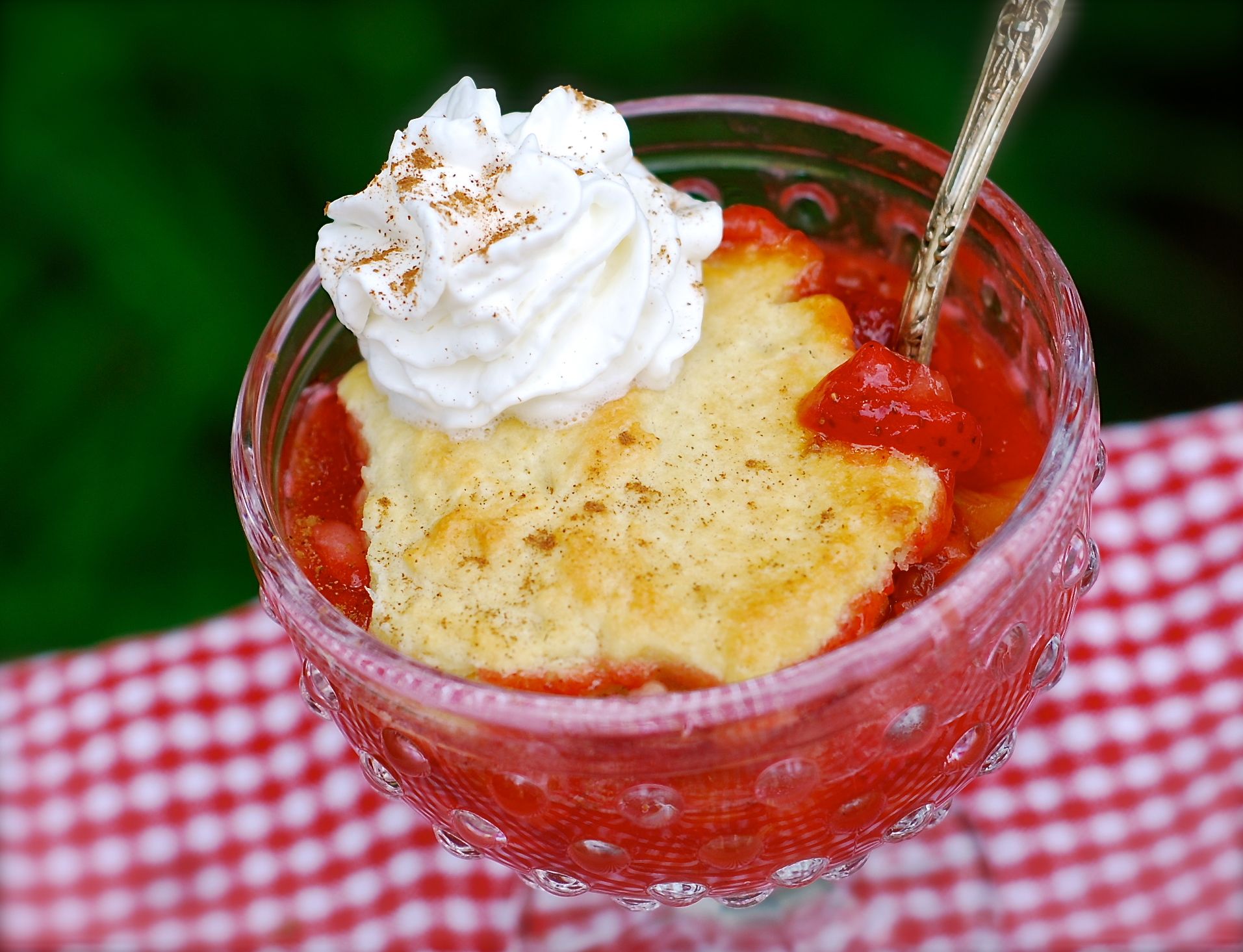 So I've made a big pan of Amish Rhubarb Dream Bars, a Rhubarb Picnic cake, and two loaves of rhubarb bread (recipe coming soon.) And I STILL have two giant Ziplocs FULL of fresh rhubarb. I guess it's a good problem to have, because everyone in our house adores rhubarb desserts. I suppose I can make some of my Rhubarb Custard Cake, Crock Pot Rhubarb Apple Butter… and maybe some Strawberry Rhubarb Cordial too…. Yes, I think I will!
Anyhoo, this is what I made today. Amish Strawberry Rhubarb Cobbler, selected from my extensive archive of Amish recipes. The filling is the perfect balance of sweet and tart with big pieces of fresh, juicy fruit. The cobbler topping is buttery and perfect. You're welcome!
~ preheat oven to 400 degrees F. ~
for the topping:
1 cup all purpose flour
2 Tablespoons sugar
1 and 1/2 teaspoons baking powder
1/4 teaspoon salt
1/4 cup real, unsalted butter
1/4 cup milk
1 large egg, lightly beaten
Butter a 9×9 glass cake pan or baking dish.
Whisk flour, sugar, baking powder, and salt in a medium bowl. Rub in the butter, using your fingers, until coarse crumbs form. Add milk and egg, stirring just until evenly incorporated. Set aside.
for the filling:
1 cup sugar
2 Tablespoons cornstarch
1/4 teaspoon cinnamon
2 heaping cups coarsely chopped, fresh strawberries
2 heaping cups chopped, fresh rhubarb
2 Tablespoons fresh lemon juice
1 Tablespoon unsalted butter
Whisk sugar, cornstarch, and cinnamon in a medium saucepan. Stir in strawberries, rhubarb, and lemon juice. Cook, stirring constantly, over medium heat until mixture boils. Cook an additional minute as you continue to stir.
Pour the filling into the prepared baking dish. Cut the butter in little chunks and dot the top of the filling with the butter. Spoon topping on the filling in 5 or 6 evenly placed mounds. Bake in preheated oven until cobbler is golden brown and the topping is set (approximately 25 minutes.) Remove from oven and allow to cool for 15 minutes prior to serving. This dessert is good warm or at room temperature. Top with sweetened whipped cream or vanilla ice cream, if you wish!
Enjoy!
~Melissa
You may enjoy these related posts: