Print Friendly Version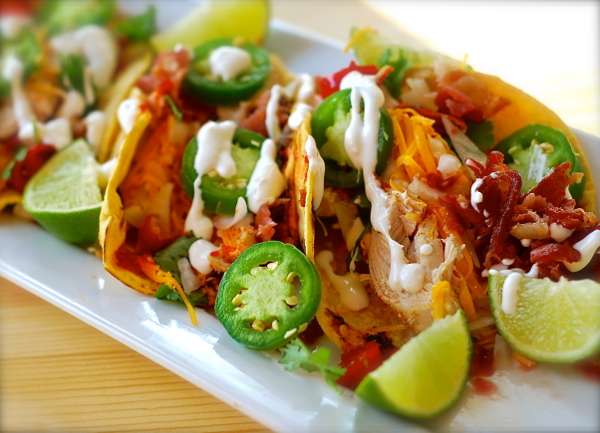 Happy Cinco de Mayo, Lovelies! We're celebrating the holiday with this new, amazing taco creation and margaritas, of course!
I made it my mission to create a taco that captured all of the yummy flavors of the delicious bacon-wrapped jalapeno popper and this is it! I hope you love this recipe as much as we do.
for 16 tacos:
16 corn or flour tortillas
1 lb. bacon, fried until crispy and crumbled
5 to 6 large chicken breasts
olive oil
sea salt
cayenne pepper
onion powder
garlic powder
cumin
8 to 10 oz. cheddar cheese, shredded
24 grape tomatoes, sliced
1/2 cup fresh cilantro, chopped
3 to 4 jalapeno peppers, sliced
cream cheese crema (recipe below)
fresh lime wedges
Fry bacon in skillet until crispy. Transfer to a paper towel-lined plate and set aside.
Place chicken breasts in a baking dish and sprinkle with a little olive oil, sea salt, cayenne pepper, onion powder, garlic powder and cumin. Cover baking dish with foil and bake in preheated 425 degree F. oven for 25 to 30 minutes (or until juices run clear when cut into and very hot in the center of each breast.)
Once chicken and bacon are done, crumble bacon and chop up the chicken.
Toast tortillas over the open flame of a gas burner, turning ever few seconds so they don't burn (approximately 20 seconds per tortilla.)
Plate tortillas. Remove chopped chicken from baking dish using a slotted spoon.
Fill tacos with the chopped chicken, followed by some grated cheddar cheese, sliced tomatoes, cilantro, jalapeno peppers, crumbled bacon, and some cream cheese crema. Garnish with fresh lime wedges for squeezing over tops of tacos.
for the cream cheese crema:
4 oz. cream cheese, softened
1/2 cup sour cream
1/4 cup buttermilk
2 large cloves garlic, minced
Whip softened cream cheese, sour cream, buttermilk and minced garlic in a large bowl, using a wire whisk, until smooth. Transfer to a squirt bottle using a funnel. Cover bottle tightly before each use.
Enjoy!
~Melissa
You may enjoy these related posts: