Print Friendly Version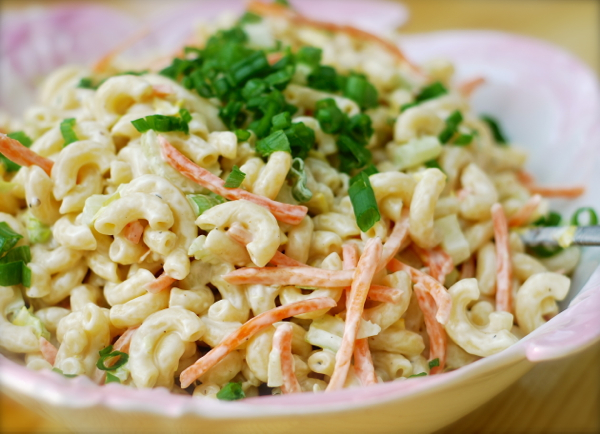 Ahhhhh, what a lovely, relaxing Mother's Day weekend we had. I'll be publishing a new "scenes" post soon. I can't wait to share a bunch of pictures and tell you all about it. How did you celebrate?
We spent the day at home on Sunday, after a fun, busy day in the cities on Saturday. Jeff made chicken and I made a few different salads. We hung out on our deck, sipped a little wine and enjoyed the beautiful, sun-shiny weather. The lilacs and apple blossoms are in full bloom here and it smells so good every time we step outside.
Here's one of the salads I made. It's so delicious, with simple, minimal ingredients. It's easy to put together, and it's wonderful with anything barbecued or grilled.
I mimicked a salad we had with several "plate lunches" while visiting Hawaii. This is a staple on the islands, just like potato salad and jell-o are served with everything in the Midwest. It's so good!
1 lb. elbow macaroni
1 Tablespoon olive oil
1/2 cup to 1 cup whole milk
1 cup real mayonnaise
1/4 cup brown sugar
1/4 cup apple cider vinegar
1/2 cup carrots, peeled and grated or julienned
2 cups finely chopped celery
4 green onions + green tops, sliced thin (save some for garnish)
salt and black pepper, to taste
Make elbow macaroni according to package directions for al dente pasta. Once done, drain very well. Transfer to a large mixing bowl, toss with olive oil and set aside to cool a bit.
Once the pasta is mostly cool, mix 1/2 cup of the milk, the mayonnaise, and brown sugar together in a medium mixing bowl. Once fully incorporated, whisk in the vinegar. Pour over pasta and mix well. Toss in the celery and onions. Salt and pepper, to taste. Garnish with reserved green onions. Cover and cool completely before serving. You can add a little more milk at this point if there doesn't seem to be enough dressing. The macaroni will absorb some of the dressing as it chills in the fridge.
Enjoy!
~Melissa
You may enjoy these related posts: