Print Friendly Version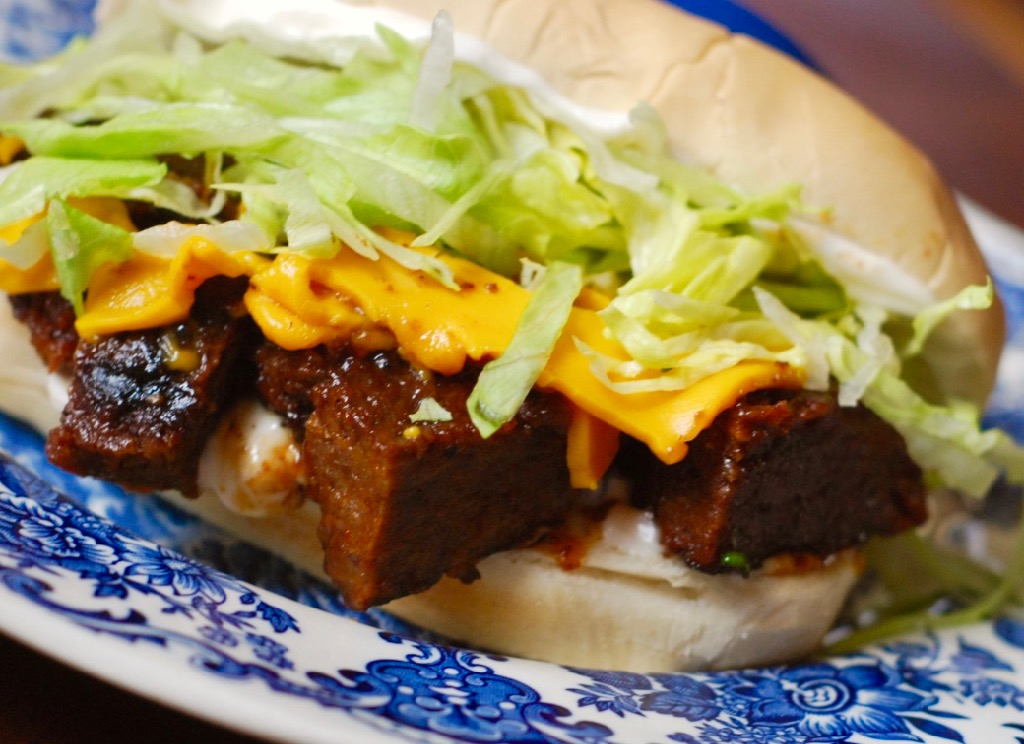 So, ya know that vegan steak I made? It's REALLY good made into sandwiches. I slathered some vegan mayo mixed with a little horseradish on a French roll, and piled it high with saucy vegan steak chunks, vegan cheese, and shredded lettuce. I know it's kind of silly to share a blog post for how to make a sandwich, but I had to tell you about this one. You are going to love love love it!
for one sandwich:
1 French roll (or your favorite roll/bread) toasted or untoasted
vegan mayo (we use Hellmann's) + a little horseradish, to taste
1/2 of a vegan steak
1 Tablespoon smoky-sweet BBQ sauce (We use Heinz Kentucky Bourbon)
1 Tablespoon low sodium teriyaki sauce
freshly ground black pepper
your favorite melty vegan cheese (Daiya Cutting Board Cheddar Slices are good)
shredded lettuce
Grill steak according to the directions in this post, or heat in a skillet. Cut into bite size chunks and toss with the BBQ sauce and teriyaki. Add ground pepper, to taste.
Split the bun and slather on the mayo mixed with horseradish. Top with the saucy steak chunks, cheese, and shredded lettuce. You could add some onion and thinly sliced tomato too, if you wish.
Enjoy!
~Melissa
You may enjoy these related posts: