Print Friendly Version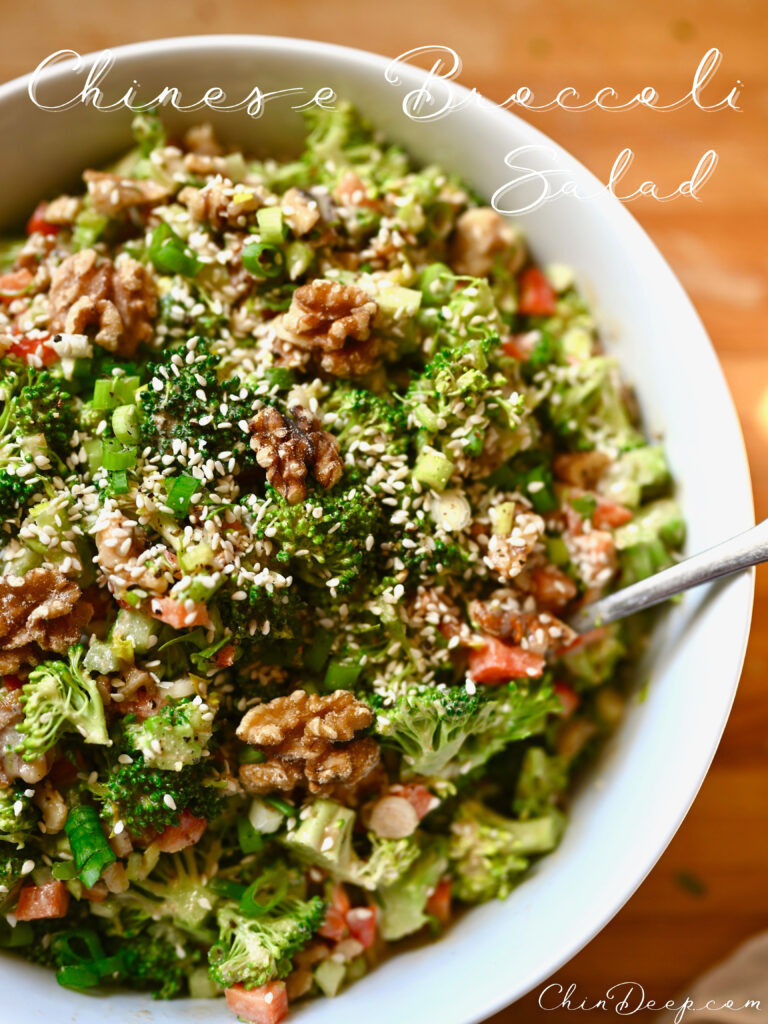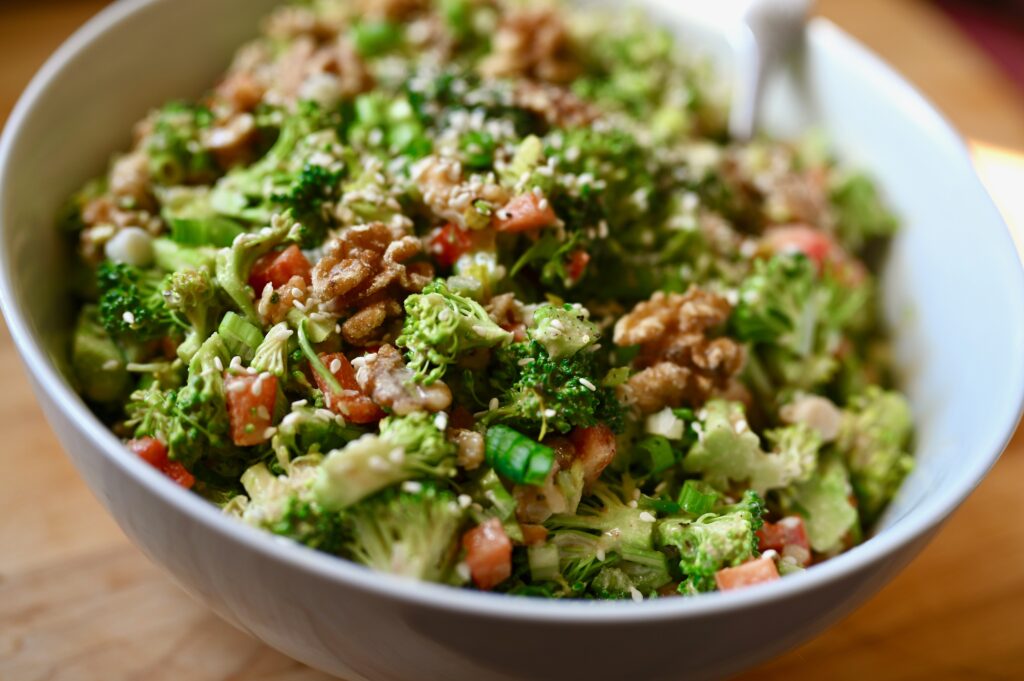 There's something about the contrast of a super crunchy salad with a sandwich at lunch time. I used to eat a pile of chips with my sandwich, and still do on occasion, but lately I've been making super crunchy salads that either feature broccoli or cauliflower. A much healthier choice to be sure.
This salad features broccoli, walnuts, red bell pepper, celery, and green onion in a savory, delicious Asian-style dressing. I use cashew cream to add a creaminess to the salad and a tiny bit of mayonnaise. You could use all mayo if you like, but cashew cream is a whole food that includes healthy fat and not just oil. I keep a jar in the refrigerator at all times.
I keep the dressing and salad separate until just before serving. This way everything stays crunchy and fresh.
To toast walnuts: Place walnut halves in a skillet for a few minutes, stirring frequently so they don't burn. Remove from heat once they're slightly golden and fragrant.
for the salad:
2 lb. small broccoli florets
1 and 1/2 cups toasted walnuts, coarse chopped
1 medium red bell pepper, chopped small
6 green onions + tops, sliced
2 celery ribs + some of the leafy tops, chopped small
for the salad dressing:
3/4 cup cashew cream
1/4 cup mayonnaise
1 Tablespoon minced garlic
1 teaspoon olive oil
1 Tablespoon dark sesame oil
2 Tablespoons fresh lemon juice OR rice vinegar
2 Tablespoons soy sauce OR coconut aminos
3 Tablespoons pure maple syrup OR agave syrup
1 Tablespoon minced fresh ginger
1/2 teaspoon Chinese Five Spice
freshly ground black pepper, to taste
sesame seeds (garnish)
Brown the minced garlic in the olive oil. Set aside to cool.
Mix all salad ingredients in a large bowl and cover.
Mix all dressing ingredients in a small bowl using a wire whisk. Add the cooled garlic. Cover.
Refrigerate everything until ready to serve. Pour dressing over salad. Mix well. Garnish with more green onion tops and sesame seeds.
I like this with a drizzle of Sriracha.
Enjoy!
~Melissa
You may enjoy these related posts: