Print Friendly Version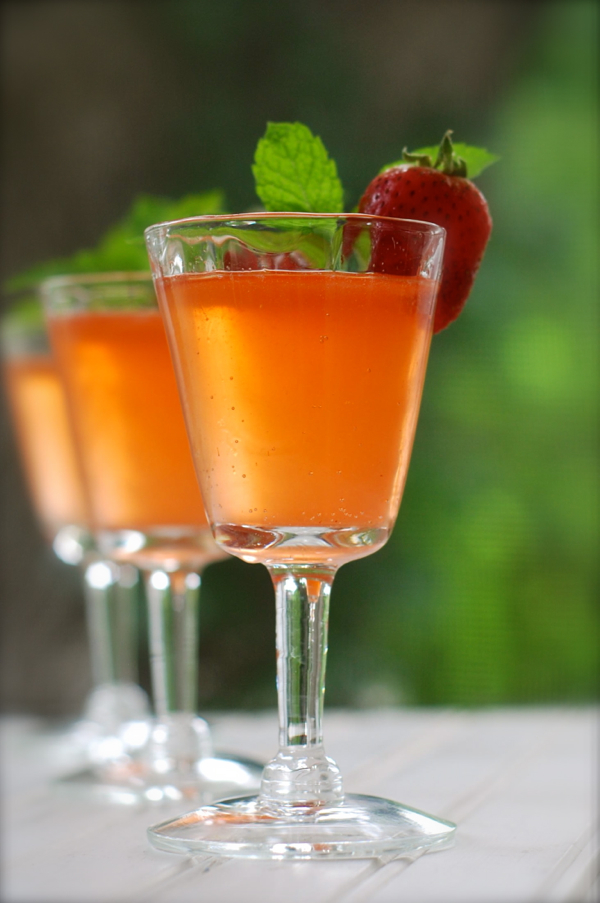 This is a recipe that is super simple to put together and then you have to wait a month to enjoy it. I thought I'd bring you along on the process, and you can make some too, if you like. I was going to wait and post everything at once, and then it dawned on me that rhubarb season is short and sweet. If you don't start this beverage brewing now, you'll more than likely have to wait until next year to try it.
My jars are sitting on my counter looking much as they do above. I'm trying to be patient. I really am 😉
1 liter good quality vodka (I like Stoli)
1 lb. fresh, perfectly ripe strawberries
1 lb. fresh rhubarb (wait for it to be in season and ripe. Don't use frozen)
1 and 1/4 cups sugar
Wash all fruit very well. Wash canning jar(s) with soap and very hot water. Rinse well.
Take the green tops off of the strawberries and remove the hulls. Cut berries into quarters, and place in a large canning jar (or a few smaller canning jars.) It's important that you use a very clean glass container with a tight fitting lid for this recipe. Cut rhubarb into one inch pieces and place it over the berries. Pour sugar over fruit. Cover jar and shake so the sugar coats the fruit. Pour all of the vodka over the fruit. Stir to combine. Cover jar(s) tightly and place them on your counter for one month so the cordial can age.
Shake the jar once a day.
Once a week, remove lid and stir, gently mashing the berries and rhubarb to help break down the fruit. Replace lid.
Cordial will be done after one month. Strain and discard fruit. Decant into pretty, sterilized wine bottles or back into the jars. Refrigerate until ready to serve.
Serve as an after dinner drink, over ice, or as a spritzer using half cordial and half club soda.
Enjoy!
~Melissa
You may enjoy these related posts: