Print Friendly Version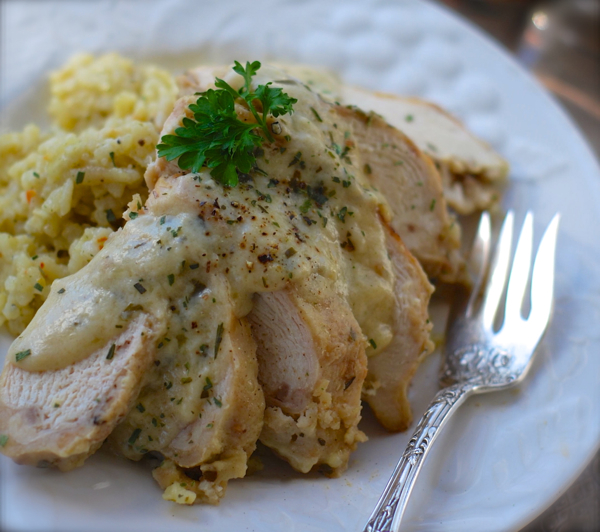 Tonight I'm making a big batch of homemade Irish Cream and we're decorating our Christmas tree. I just love this festive time of year, being inside our cozy little cottage, snuggled around the fire, while the snow falls outside. These are bread baking, soup simmering, candle lighting, cocoa and tea sipping, quilt cuddling days. How do you keep your house warm and welcoming during the winter months? My dear friend Danielle, over at Cozycakes Cottage, has been posting SO many lovely ideas for making your home a haven this time of year. AND she tells us how to create a little Winter Cocoa Bar at home. How adorable is that? Yeah, she's awesome.
I took the day off from cooking today, after a series of events kept detouring me away from my kitchen. I had plans for a cranberry orange coffee cake, but no worries, I'll just make it tomorrow.
Last night I made this delicious, and pretty darn easy, chicken recipe for our dinner in front of the fireplace. I served it with simple, steamed broccoli topped with butter and Parmesan, and a garlicky risotto that was the perfect, creamy accompaniment. I also sauteed a bunch of baby bella mushrooms in butter and wine and gave everyone a generous portion of those too. This would make a lovely Christmas Eve dinner, or a romantic dinner for two.
1/3 cup flour
1 and 1/2 teaspoons salt
1/2 teaspoon freshly ground black pepper
4 to 6 large, boneless, skinless chicken breasts
6 Tablespoons real butter
2 Tablespoons olive oil
2 Tablespoons cornstarch
2 Tablespoons Dijon mustard
1 and 1/2 cups buttermilk
3/4 cup chablis or other dry, white wine
1 Tablespoon dried tarragon
sauteed mushrooms (optional)
parsley sprigs for garnish (optional)
Preheat oven to 350 degrees F. Mix the flour, salt and pepper together in a medium size mixing bowl. Dredge the chicken breasts in the flour mixture.  Heat 3 Tablespoons of the butter in a skillet along with the olive oil. Fry the chicken in the butter mixture just until golden on each side. Transfer to a 9 x 13 glass baking dish.
to make sauce:
Melt the remaining 3 Tablespoons butter in a saucepan. Over low heat, stir in the cornstarch, mustard and buttermilk. Whisk constantly until thickened. Add the chablis and tarragon, and whisk constantly until reduced and thickened again. Pour over chicken. Cover baking dish with foil and bake for 30 to 40 minutes or just until the chicken juices run completely clear. Serve over risotto, rice, potatoes or pasta and with your choice of salad or vegetables.
Enjoy!
~Melissa
You may enjoy these related posts: