Print Friendly Version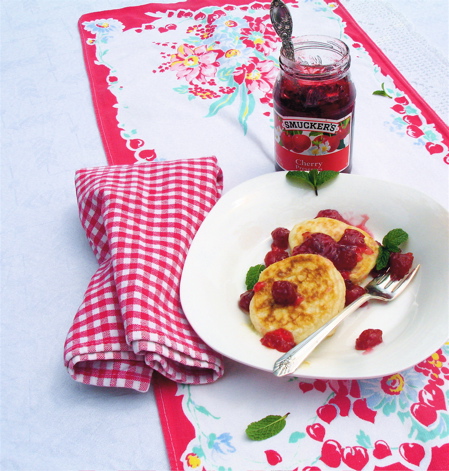 ~crumpets~
The crumpet. Quintessentially English. Part English muffin, part pancake. The perfect accompaniment to tea and the perfect vehicle for butter and preserves.
Crumpets are usually baked in metal flan rings on a hot griddle. I personally think the rings are unnecessary, and like to free-form my crumpets. It may take a few batches to get the hang of making them, and they require the same proofing and raising times as most yeast breads, but I think they're worth the hassle. I hope you agree!
1/2 cup milk
1/2 cup boiling water
1 package active dry yeast
1 teaspoon sugar
1/2 teaspoon pure vanilla extract
1 and 1/2 teaspoons salt
1 and 3/4 cups sifted, all-purpose flour
1/4 teaspoon baking soda dissolved in 1 Tablespoon water
Combine milk and boiling water. Cool to lukewarm. Add yeast and sugar and allow to proof. Mix the salt and sifted flour together. Combine with yeast mixture and beat with a wooden spoon until thoroughly combined. Let batter rise, uncovered, in a warm place until almost doubled in bulk and bubbly. Add the dissolved baking soda, and beat into the crumpet batter. Allow to rise until doubled in bulk again.
Spoon batter by Tablespoonfuls onto a moderately hot, lightly buttered griddle (or cast iron skillet.) Cook until dry and bubbly on top. Flip crumpets and brown lightly on the other side. Allow to cool. To serve, toast in a toaster. Butter generously and top with your favorite preserves, jam, honey, marmalade or fruit curd.
Happy Teatime Tuesday!
~Melissa
You may enjoy these related posts: