Print Friendly Version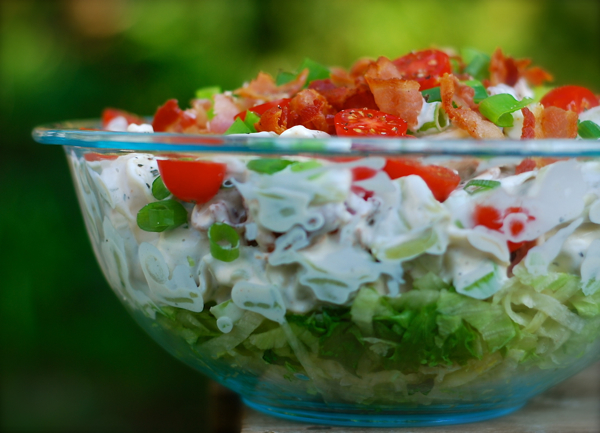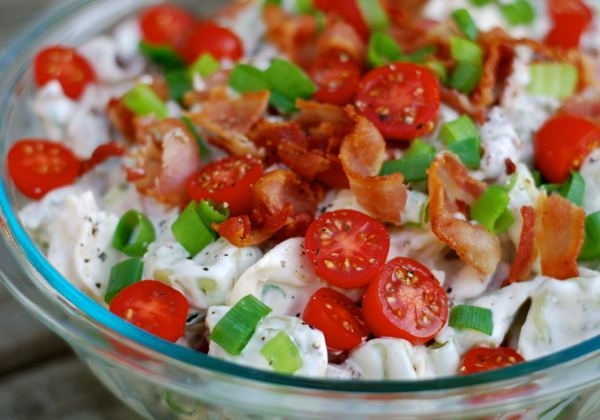 If you like BLT sandwiches… and if you like creamy tortellini salad…. then you will LOVE this awesome salad which is a combination of both! I added a little barbecue sauce to the ranch dressing to give it a just a hint of smokiness to compliment the bacon and other flavors. This is one of the best salads I've ever made or eaten. I hope you love it as much as I do.
The amount of dressing will seem like a lot, even after you mix it into the pasta. Have no fear. The pasta will absorb some of the dressing as it chills, and once you serve it with the shredded lettuce, you'll find it's the perfect ratio of dressing to salad.
for the salad:
1 lb. refrigerated 3 cheese tortellini (don't use dried for this)
1 to 1 and 1/2 lb. bacon, save some for garnish
3 to 5 green onions, sliced (include tops, save some for garnish)
1 cup cherry tomatoes or grape tomatoes, halved (plus more for garnish)
1/2 head iceberg or romaine lettuce, shredded
Cook tortellini according to package directions for firm/al dente pasta. Immediately run cooked pasta under cold water to stop cooking process and to chill it for the salad. Drain very well. Transfer to a large mixing bowl.
Fry bacon until crispy. Cool. Crumble. Add to the bowl with the pasta, along with the onions, and tomatoes.
Place shredded lettuce in a separate, large serving bowl. (I like to use clear glass so you can see the pretty salad when you serve it.)
for the dressing:
1/2 cup buttermilk
2 Tablespoons powdered ranch dressing mix (use Hidden Valley, or homemade)
1 cup real mayonnaise
2 Tablespoons smoky sweet BBQ sauce
1/2 cup sour cream
1/4 cup grated or powdered Parmesan cheese
1 teaspoon minced garlic
freshly ground black pepper, to taste
Place all dressing ingredients in a medium mixing bowl and mix with a wire whisk until smooth. Pour over pasta mixture and gently toss to coat. Pour tortellini salad over the shredded lettuce in the salad bowl. Don't mix the lettuce in. Garnish top of salad with reserved bacon, green onion tops, and tomatoes. Sprinkle a little more black pepper over the top. Cover salad and chill for 2 hours prior to serving.
To serve: Scoop into pretty salad bowls, making sure to include some of the lettuce from the bottom of the bowl.
Enjoy!
~Melissa
You may enjoy these related posts: