Print Friendly Version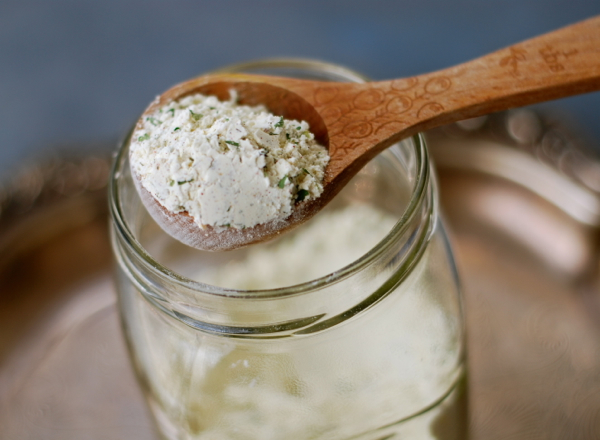 Never eat the MSG-laden, sodium-packed stuff again. You know the stuff I'm talking about.
This is so much better tasting, and so much better for you. It's super easy to make too! Yay! Use this in place of the powdered, Hidden Valley Ranch Dressing mix in all of your favorite recipes!
In a large canning jar with a tight fitting lid:
1 heaping cup dry buttermilk powder
3 Tablespoons dry parsley flakes
1 Tablespoon dry dill
1 Tablespoon garlic powder
1 Tablespoon dry onion flakes
1 teaspoon sea salt
1 teaspoon sugar
1 teaspoon black pepper
1 teaspoon paprika (regular or smoked)
1/4 teaspoon cayenne pepper
Mix very well, using a spoon. Cover tightly and keep in a cool, dry place until ready to use.
for homemade ranch dressing:
1/2 cup mayonnaise
1/2 cup sour cream
3 Tablespoons homemade dry ranch mix
1 cup buttermilk
Whisk all ingredients in a large bowl until mixed well. Transfer to a canning jar with a lid. Refrigerate until ready to use. This dressing will keep in your fridge for up to one week. This is wonderful on garden salads!
for homemade ranch dip:
1 cup sour cream
3 Tablespoons homemade dry ranch mix
Whisk all ingredients together until smooth. Cover until ready to serve. Spoon into a bowl and serve with chips or raw veggies for dipping!
Enjoy!
~Melissa
You may enjoy these related posts: