Print Friendly Version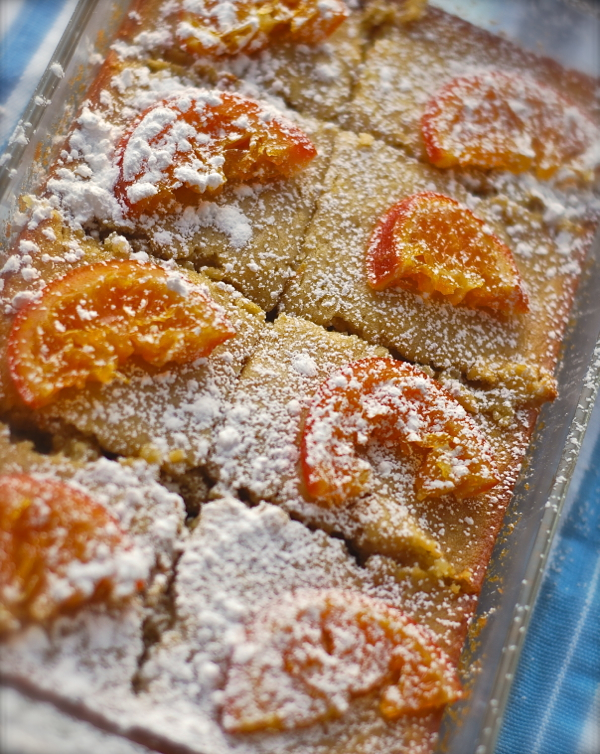 After a day of napping yesterday and a full night's sleep I'm bursting with energy. I've been busy in my kitchen making a big batch of THIS COWBOY CAVIAR to top our grilled chicken & spinach salads for dinner tonight. I added some Cannelini beans, capers and curry this time for something a bit different. Such a delicious, versatile and healthy salad (it's one of our favorite dips to serve with tortilla chips for impromptu gatherings too… I always have the ingredients on hand.) I'm also making a loaf of THIS COTTAGE CHEESE-DILL  batter bread to go with the salad. What to make for dessert? Hmmmmm…. Maybe another batch of these delicious, citrusy blondies? Yup. I think that's a brilliant idea.
I was inspired to make these after reading my friend Lark's post… Thanks for the idea, Larky!
for the blondies:
1/2 cup butter, melted
1 cup light brown sugar
1 large egg, lightly beaten
1/2 teaspoon pure almond extract or pure vanilla extract
8 oz. Mascarpone cheese
1 Tablespoon fresh lemon juice
1 Tablespoon fresh tangelo juice
2 Tablespoons lemon zest
2 Tablespoons tangelo zest
1 cup all-purpose flour
1/2 teaspoon baking powder
1/8 teaspoon baking soda
1/2 teaspoon salt
4 candied tangelo or orange slices, halved
Preheat oven to 350 degrees F. Lightly butter and flour a small square cake pan (or a 6 x 10 rectangular cake pan.) Whisk butter and sugar together in a large bowl. Add egg, almond/vanilla, mascarpone, citrus juices and citrus zests. Mix thoroughly. In a small bowl, combine the dry ingredients and mix well. Add dry ingredients to wet and mix until just combined and evenly moistened. Pour into prepared pan. Bake 25 to 30 minutes or until a toothpick comes clean when inserted in center of bars. Cool on a wire rack in pan. When completely cooled, cut into 8 squares and frost (optional) or sprinkle powdered sugar over top. Place a half slice of candied tangelo or orange on each square.
for the frosting (optional) :
1 cup powdered sugar
2 Tablespoons butter
1 and 1/2 Tablespoons lemon juice
1 teaspoon Tangelo zest
1/2 teaspoon vanilla extract
Combine all in a bowl with a wire whisk until smooth. Spread over cooled blondies.
Enjoy!
~Melissa
You may enjoy these related posts: