Print Friendly Version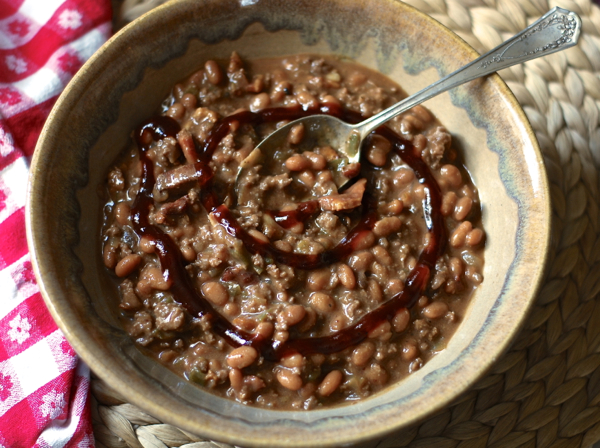 When I make these "doctored" baked beans I think of cattle drives and the movie City Slickers. It just seems like the kind of dish that an elderly gentleman named "Cookie" or "Spur" would be stirring over a campfire under the stars. I love to make this for family gatherings, pot lucks, and summer picnics. Perfect with grilled meat of any kind, and cheeseburgers in particular.
1/2 lb. applewood smoked bacon, fried until crispy
3 Tablespoons beer or whiskey
2 Tablespoons bacon drippings
1 lb. extra lean ground beef or bison
1 large onion, chopped
1/2 green pepper, chopped
1/2 cup BBQ sauce (we like Sweet Baby Ray's)
1/2 cup brown sugar
1 teaspoon garlic powder
1 teaspoon pepper
2 teaspoons Sriracha hot sauce (or your favorite)
3 teaspoons grainy brown country style mustard (Inglehoffer"stoneground")
2 Tablespoons maple syrup
28 oz. can of your favorite baked beans (we like Bush's)
salt to taste
In a cast iron dutch oven, or a pot with a heavy bottom, fry up the bacon until crispy. Remove bacon to a paper-towel lined plate and discard all but 2 Tablespoons of the drippings. Deglaze pan with the beer/whiskey. Add the beef, onion and green pepper. cook until beef is cooked through. Add the bbq sauce, brown sugar, garlic powder, pepper, hot sauce, mustard, maple syrup and beans. Cook over a medium-low flame until hot and bubbly, stirring frequently. Add bacon back to the pot. Stir to combine. Adjust seasonings.
Enjoy!
~Melissa
You may enjoy these related posts: