Print Friendly Version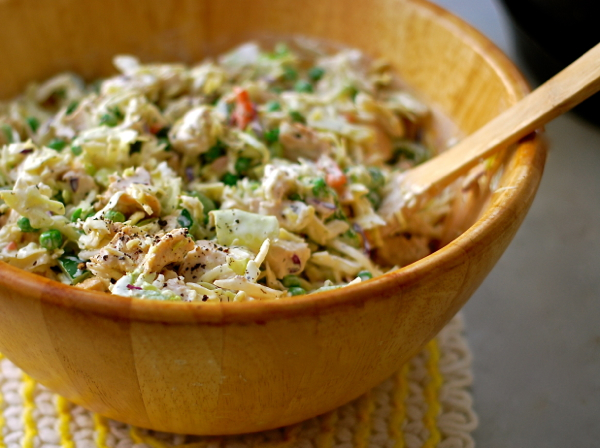 Hello there! It's gorgeous outside today and it's got me thinking about crisp, cold refreshing salads and dinner on our screened-in porch. Maybe a tall glass of iced tea? This is such an easy little salad to put together, and the chunks of grilled chicken make it delicious and satisfying enough to pass as lunch or dinner.
1 (1 lb.) bag coleslaw mix (I use the one with multi-colored slaw + carrots)
1 small, sweet bell pepper, chopped (I used green, but use your favorite)
1/2 cup real mayonnaise
3/4 cup buttermilk
3 Tablespoons dry ranch dressing mix (store bought or homemade)
1 Tablespoon fresh dill, chopped (or 2 teaspoons dry)
1 cup frozen peas, thawed
1/4 cup chopped onion (any type)
1 teaspoon garlic powder
3 large, cooked, chilled, cubed chicken breasts (we grilled ours)
salt and pepper, to taste
Combine all ingredients in a large salad bowl and mix well. Chill until ready to serve. Give it a good stir just prior to plating to evenly incorporate the buttermilk dressing again.
Enjoy!
~Melissa
You may enjoy these related posts: