Print Friendly Version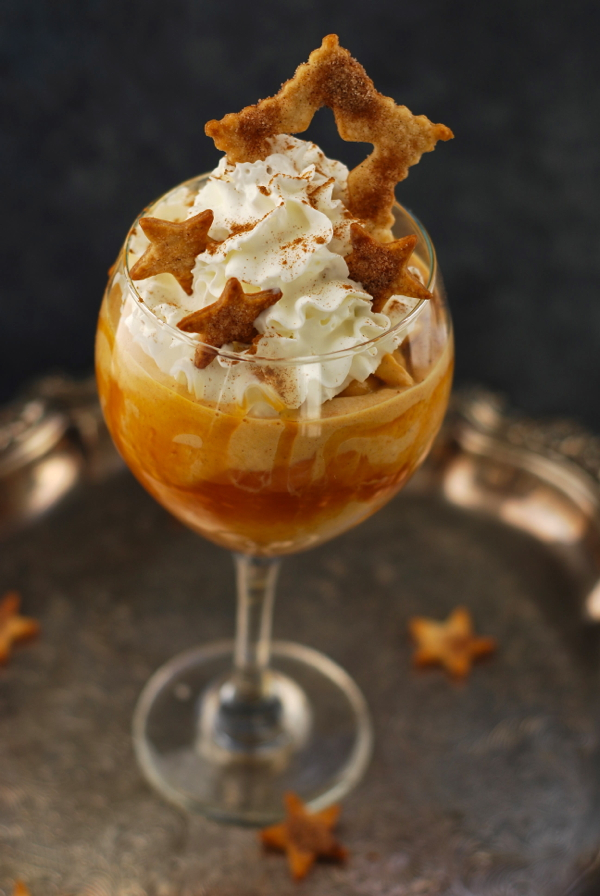 When I was testing cocktail recipes in my kitchen for the Captain's Table Recipe Challenge, I kept thinking how I wanted to create something really sophisticated and "grown up" for my entry. I perused the internet looking for such a cocktail, but nothing really caught my eye. Then it just sort of hit me. I would create something that would be pretty, could double as a dessert, and that would capture the nostalgia of the holiday. What is more quintessentially Thanksgiving than pumpkin pie? I ask you. So here you have it. The Captain Morgan Spiced Rum Pumpkin Pie Shake. Those are little cinnamon & sugar pie pastry stars embellishing the drink. I think they give it something extra. You'll want to make them in advance and let them cool before blending the shakes.
This is so incredibly delicious, I hope you all love it as much as I do. Happy Holidays, Lovelies.
Captain Morgan will donate $1 to WhyHunger every time the hashtag #CaptainsTable is used across social media during the holiday season. So, please, make sure to add the hashtag whenever you share a holiday recipe or entertaining tip on Facebook, Twitter or Pinterest.
for the shake:
caramel sauce (homemade or store bought is fine)
8 scoops premium vanilla ice cream
1/4 cup pure pumpkin puree
1 teaspoon pumpkin pie spice
2 shots Captain Morgan Original Spiced Rum
real, sweetened whipped cream
cinnamon & sugar pie pastry stars (see recipe below)
Drizzle some caramel sauce on the inside of a big, bubble wine glass. Place the ice cream, pumpkin puree, pumpkin pie spice and the Captain Morgan Original Spiced Rum in the bowl of a blender. Blend until smooth and evenly combined. Pour the shake into the wine glass. Top with a generous dollop of whipped cream. Garnish with a little sprinkle of pumpkin pie spice and some cinnamon & sugar pie pastry stars.
for the cinnamon & sugar pie pastry stars:
~ preheat oven to 450 degrees F. ~
pre-made pie crust dough (I used Pillsbury)
cinnamon & sugar
Using a cookie cutter, cut stars out of pre-made, rolled out, pie pastry dough. Place on a cookie sheet, sprinkle with cinnamon & sugar and bake for 3 to 5 minutes, being careful not to burn. They're done as soon as they get crispy and golden brown on the edges. Cool before using as a garnish.
Cheers!
~Melissa
You may enjoy these related posts: