Print Friendly Version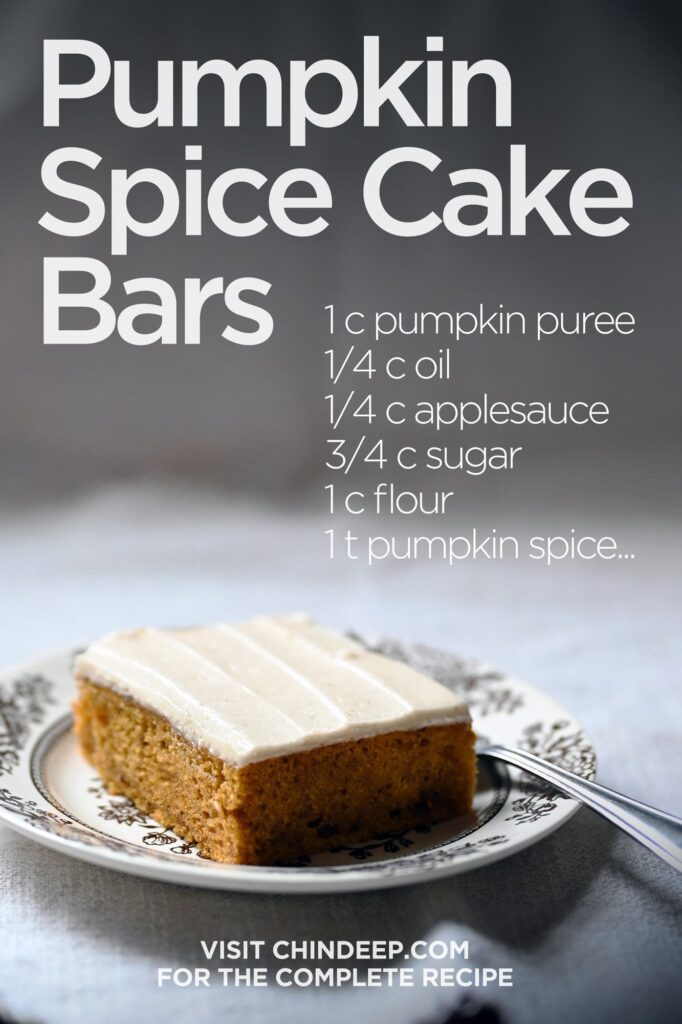 Ready for some more pumpkin spice deliciousness? These pumpkin spice cake bars are made from scratch, and perfect for fall. They're super moist with creamy pumpkin spice frosting, and they're easy to prepare.
Make a pot of coffee or tea, light a fire in the fireplace, get your cozy blankets ready, put on your fuzzy slippers, and enjoy one of these yummy pumpkin bars. Pure heaven!
PS: These bars are wonderful for people with a dairy or egg allergy! No eggs or dairy here!
~ Pumpkin Spice Cake Bars ~
~ preheat oven to 350 degrees F. ~
2 Tablespoons ground flax seed
2 and 1/2 Tablespoons water
1 cup pure pumpkin puree
1/4 cup vegetable oil
1/4 cup applesauce
3/4 cup sugar
1 cup all purpose flour
2 teaspoons baking powder
1 teaspoon salt
1/4 teaspoon baking soda
2 teaspoons cinnamon
1 teaspoon pumpkin pie spice
1/4 teaspoon ground cloves
Lightly oil a 9×13 baking pan.
Make a flax "egg" by simply mixing the ground flax and water and setting it aside.
In a large mixing bowl, combine the pumpkin puree, oil, applesauce, and sugar.
In another bowl, combine the flour, baking powder, salt, baking soda, cinnamon, pumpkin pie spice, and ground cloves.
Add the flax egg to the wet ingredients. Mix well. Now add the wet ingredients to the dry ingredients and mix just until everything is evenly combined and moist.
Pour batter into the prepared cake pan. Using a rubber spatula, smooth into an even layer. Bake in preheated oven for 25 to 30 minutes. Bars are done when a toothpick inserted into the center of the bars comes out clean.
While the bars are baking, make the pumpkin spice frosting.
~ Pumpkin Spice Frosting ~
1/2 cup softened vegan butter (we love Organic Earth Balance)
3 cups powdered sugar
1 teaspoon apple cider vinegar
2 teaspoons pure vanilla extract
2 Tablespoons soy milk
1/2 teaspoon pumpkin spice
Place all ingredients in the bowl of a stand mixer and beat on high until smooth and creamy. Refrigerate until ready to use.
Once bars are done, allow them to cool completely before topping with the pumpkin spice frosting.
Bars will keep in a air tight container, in your refrigerator, for a week.
Enjoy!
~Melissa
You may enjoy these related posts: