Print Friendly Version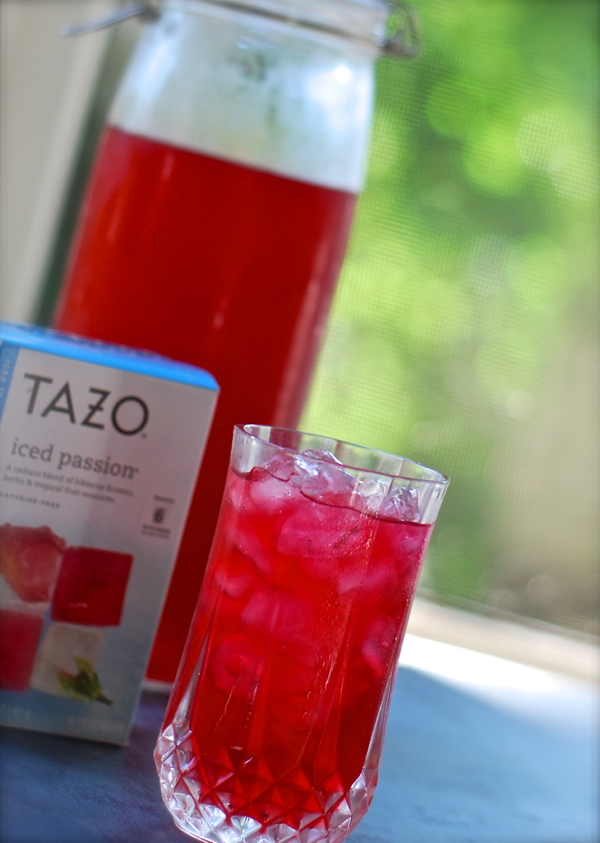 A few people wrote to me, asking how I make my Tazo Passion Lemonade after I wrote about it on Facebook. Sooo… I thought I'd write up a quick little post on it and share it here. You're going to laugh. I just make it according to the exact directions on the back of the TAZO Iced Passion box. Easy peasy! Make sure you get the "Iced" passion and not just the regular Tazo passion. I've tried making it with the regular and there is a subtle difference 🙂
The Iced Tazo Passion tea comes in boxes of 6. The tea bags are big and you only need one for a gallon of the Iced Passion Lemonade.
1 Tazo Iced Passion Filterbag
32 fl. oz boiling, purified water
32 fl. oz. cold lemonade (I used Minute Maid for this)
ice
lemon wedges/slices for garnish
Bring fresh, filtered water to a boil. Pour boiling water over the filterbag in a 64 oz. pitcher until it's half full. Let it steep 5 to 10 minutes. Remove the bag. Squeeze out as much of the liquid into the pitcher as you can, for maximum flavor. Fill pitcher to the top with cold lemonade. Refrigerate to chill completely. Enjoy over ice. Garnish with lemon wedges/slices.
Cheers!
~Melissa
You may enjoy these related posts: