Print Friendly Version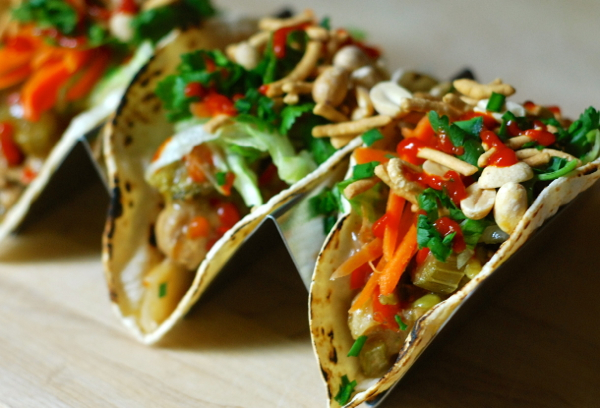 So you know how I'm a voracious taco fan? I seriously can't get enough of them, and eat them almost every day in one form or another. Well, I came up with something new that I just love. I made up a batch of my chicken chow mein and had some leftover the next day. It looked really good and was calling my name around lunch time. But I also wanted tacos. What to do? Well, make chow mein tacos of course!
You can use shrimp, pork, or beef chow mein in place of the chicken, if that's what you prefer or have on hand.
corn or flour taco tortillas
chow mein or chop suey (any type)
soy sauce
shredded carrots or cabbage slaw (with or without dressing)
thinly sliced green onions or chives
shredded lettuce
peanuts
cilantro
sriracha, sambal oelek, or your favorite hot sauce
crunchy chow mein noodles
light drizzle of toasted sesame seed oil
Lightly toast tortillas, one at a time, on a hot burner. Flip frequently so they don't burn.
Heat leftover chow mein or chop suey (if using leftovers.)
Place some of the heated chow mein/chop suey in toasted tortillas. Sprinkle on a little soy sauce and other ingredients, in order listed.
Enjoy!
~Melissa
You may enjoy these related posts: