Print Friendly Version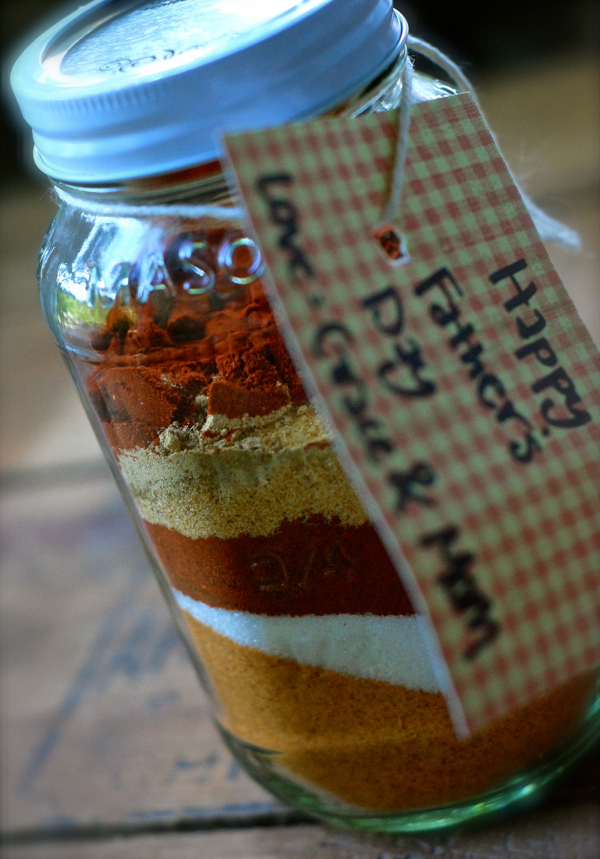 Gracie made up a big jar of this for Jeff for Father's Day. It imparts amazing flavor to grilled steaks and chicken, and it's an easy, cute gift for kids to make for their dads.
This would also make a great addition to a birthday gift for someone who likes to grill… or as a thoughtful hostess gift the next time you're invited to a BBQ or outdoor party.
For a more elaborate gift: Place a jar of the BBQ rub in a big basket along with a jar of homemade pickle relish, a jar of homemade BBQ sauce, a bottle of mango chutney, a jar of homemade steak sauce, an oven mitt, a grill apron, grilling tongs and a grill brush.
to make the rub:
16 oz. bottle Lawry's seasoned salt
1 cup dark brown sugar
2/3 cup chili powder
1/4 cup smoked paprika
2 Tablespoons oven roasted garlic powder
1 Tablespoon onion powder
1 Tablespoon cumin
2 Tablespoons freshly ground black pepper
2 teaspoons dry mustard
1 teaspoon ground ginger
1 teaspoon ground nutmeg
1 teaspoon ground cloves
Layer all in a canning jar. Cover tightly with a lid. Tie a large tag on using twine. Write a greeting on the front of the tag, and this on the back:
"Best Dad in the Land BBQ Rub
Stir rub to mix completely. Rub steaks, brisket, chicken or pork with this rub 2 hours prior to grilling."
Enjoy!
~Melissa
You may enjoy these related posts: