Print Friendly Version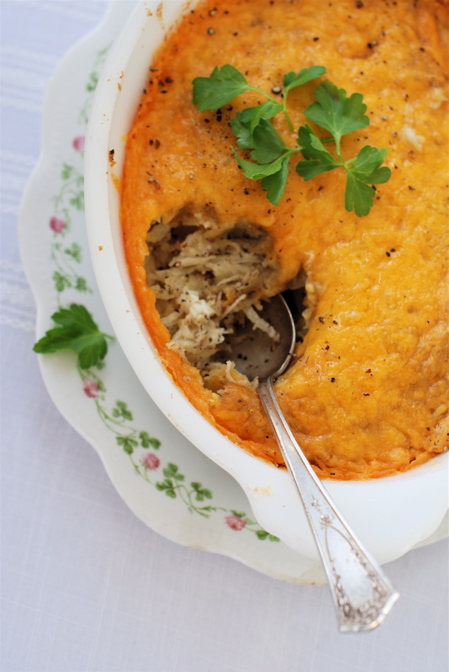 ~ irish potato bake ~
There are little green sprigs of grass sprouting in my yard. It's a St. Patrick's miracle! This almost never happens this early in Minnesota. The tender buds on my shrubs, the crocuses in the front bulb garden, Shamrock shakes, Penelope….all of these things are making me want to celebrate this green holiday.
Here's a little potato dish I dreamed up. I hope you like it. Jeff sort of floated into the kitchen  when he smelled the cheesy potatoey goodness baking in the oven. I must say, it is quite yummy.
preheat oven to 350 degrees F
2 cups peeled, grated potatoes (blotted well)
1/3 cup butter, melted
2 large eggs, beaten
2 Tablespoons minced onion
1/2 teaspoon paprika
1 teapsoon salt
1 teaspoon freshly ground pepper
1/2 cup Greek yogurt
1 teaspoon fresh thyme or oregano leaves, chopped
1 cup sharp cheddar cheese, shredded
fresh parsley leaves for garnish
Butter a 1.5 quart, glass casserole pan. Combine all ingredients except the shredded cheddar and fresh parsley. Spread evenly into buttered casserole pan. Bake for 40 minutes. Remove from oven, sprinkle with the shredded cheddar cheese. Return to oven for 10-15 minutes, or until cheese is melty and slightly golden around the edges. Garnish with parsley.
Enjoy!
~Melissa
You may enjoy these related posts: