Print Friendly Version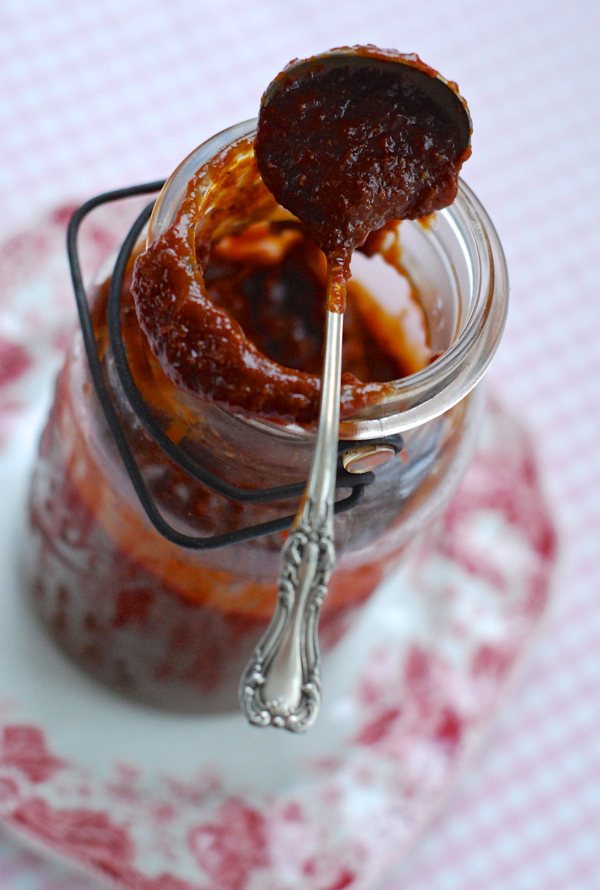 I've been having so much fun creating new recipes with berries! I especially like recipes for savory dishes and delights where berries are an unexpected surprise ingredient. This BBQ sauce is one of those. It's so good, and the flavor of the berries is recognizable without being too jammy or overbearing. I used it on a BBQ pizza last night and I still have a bunch left over to slather on our spatchcock chicken this weekend when we grill.
I used strawberries for this sauce, but you can use whatever kind of berries you wish!
3 Tablespoons coconut oil (melted and cooled a bit)
3 cups strawberries, blueberries, raspberries or blackberries (or a combination)
1 medium onion, halved and sliced thick
1 ripe Roma tomato, halved and sliced
12 large garlic cloves, unpeeled
1/2 cup organic ketchup
1/4 cup organic berry preserves (any variety)
2 Tablespoons molasses
2 Tablespoons balsamic vinegar
1 Tablespoon lite soy sauce
1 Tablespoon honey
1 Tablespoon Sriracha hot sauce
1 teaspoon Worcestershire sauce
1 teaspoon Dijon mustard
4 slices bacon, fried until crispy and crumbled
2 teaspoons bacon drippings
1 Tablespoon smoked paprika
1 teaspoon tarragon
1/2 teaspoon ground ginger
1/2 teaspoon cinnamon
1/2 teaspoon white pepper
1/2 teaspoon black pepper
Place the coconut oil, berries, onion, tomato, and garlic in a bowl and toss until everything is coated with the oil. Place on a baking sheet and oven roast at 425 for about 25 minutes or just until everything is a bit caramelized and the garlic cloves are soft. Remove the garlic cloves from their skins.
Place the oven roasted ingredients and everything else in a medium saucepan. Simmer gently, stirring frequently for 15 minutes or until sauce is slightly reduced and thickened.
Cool for 10 minutes. Place the sauce in the bowl of a food processor and pulse until pureed and smooth.
Transfer to canning jars. Cover tightly and store in refrigerator for up to 2 weeks.
Enjoy!
~Melissa
You may enjoy these related posts: